IP-Only Selects MigraX to Supply SmartNode™ VoIP Gateways
January 19, 2011


Svenska
For the mission of transitioning customers to IP telephony without replacing existing analog switches and devices IP-Only has handpicked MigraX as the supplier of choice.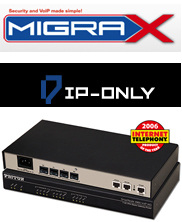 Stockholm: MigraX, a leading network security and VoIP supplier in Sweden, announced today that carrier-provider IP-Only has chosen MigraX as key supplier of VoIP hardware solutions.

MigraX will deliver VoIP gateway hardware from the Patton Smartnode™ 4960 series as well as support services for the units.

Patton gateways enable organizations to realize the many benefits of IP telephony without the expense and trouble of installing new telephones, switchboards, or other telephony hardware.

Serving as a bridge between PRI and SIP switching infrastructures, SmartNode connects existing PBX hardware with an IP network, such as the Internet.

SmartNode technology is a valuable component in IP-Only's service offerings, enabling delivery of comprehensive IP telephony solutions to large enterprises in specialized industries such as media companies and others.

"MigraX have a depth of VoIP knowledge and experience only a few can match. We needed a partner with a hardware solution that enables our clients to transition from analogue to VoIP—without having to replace their analogue voice equipment. That is exactly what we found in MigraX," says Daniel Wilson, Product Manager for IP-Only.

MigraX, who will also provide support for the Patton hardware, are delighted to be chosen for the IP-Only assignment.

"It's a privilege to work with such a major player in the VoIP game as IP-Only. This assignment recognizes our highly sought-after network security and VoIP knowledge," says Lasse Larsson, CEO MigraX.

Dominating the Swedish Market
MigraX as a supplier and Patton as an equipment manufacturer both hold the new collaboration in high regard.

"We are very happy that IP-Only has selected our SmartNode products to deliver state-of-the-art VoIP solutions for their clients. With a competent partner like MigraX, IP-Only is poised to dominate the Swedish VoIP market, says Doug Hill, Sales Director Patton Scandinavia.



---
MigraX blir hovleverantör till IP-Only

American English

– handplockade för att leverera hårdvara till IP-telefoni

Stockholm, 20 januari, 2010 – MigraX, en av Sveriges ledande leverantörer inom nätverkssäkerhet och  IP-telefoni, meddelade idag att de fått i uppdrag att förse IP-Only med hårdvara för IP-telefoni.

IP-Only levererar helhetslösningar för IP-telefoni till storföretag inom bland annat industrin och mediebranschen. MigraX kommer i första hand att leverera hårdvara i form av enheter från Pattons Smartnode 4960-serie, som fungerar som en brygga mellan digitala PRI-växlar och digitala SIP-växlar.

– MigraX har en kompetens och erfarenhet inom IP-telefoni som få andra aktörer kan matcha. Vi behövde en partner som kunde leverera hårdvara som gör det möjligt för våra kunder att övergå till IP-telefoni utan behöva byta ut alla sina analoga växlar och enheter, och det fann vi i MigraX, säger Daniel 
Wilson, Produktchef på IP-Only.

MigraX, som även svarar för supporten av hårdvaran, är själva mycket glada över att ha fått uppdraget av IP-Only.

– Det är väldigt roligt att samarbeta med ett så pass viktigt företag inom IP-telefoni som IP-Only är. Uppdraget visar även att vår kunskap kring nätverkssäkerhet och IP-telefoni är både uppskattad och 
eftertraktad, säger Lasse Larsson, VD på MigraX.Patton tillverkar de växlar som MigraX ska leverera till IP-Only och ser mycket positivt på det nya samarbetet.

– Vi är mycket glada över att IP-Only använder våra Smartnode-produkter till att förse sina kunder med 
högkvalitativa lösningar för IP-telefoni. Med en så pass kompetent och kunnig partner som MigraX, kommer IP-Only dominera den svenska marknaden, säger Doug Hill, Sales Director för Patton i Skandinavien. 

Om MigraX
MigraX AB är en specialiserad distributör inom nätverkssäkerhet och IP-telefoni, samt relaterade produkter. Bolaget representerar 3CX, Cyberpower, DrayTek, Grandstream, Patton och Vertico Software i Sverige, alla ledande inom sina respektive områden. MigraX har en nära relation till dessa tillverkare och arbetar ständigt på att anpassa deras produkter till den svenska marknaden. 

Om IP-Only
IP-Only är en etablerad leverantör av pålitliga och kraftfulla tele- och datakommunikationstjänster till företag med högt ställda krav. Grunden i verksamheten, och det vi bygger våra tjänster på, är ett eget nordiskt fibernät, renodlad modern teknik, integrerad samtrafik för telefoni samt ett antal moderna datorhallar.

Om Patton
Patton är en multinationell organisation som designar, utvecklar och tillverkar elektrisk kommunikationsutrustning för bland annat nätverksåtkomst, anslutning och IP-telefoni. Patton är ISO 9001:2008 certifierade och har över 1000 olika produkter, merparten av dem tillverkas i USA. Patton Electronics firade 26 år inom branschen den 1 januari 2010.

För mer information, kontakta:
Lasse Larsson
MigraX AB
Tel: 0734-20 00 50
E-post: lasse.larsson@migrax.se

Daniel Wilson
IP-Only
Tel: 0708-43 10 95
E-post: daniel.wilson@ip-only.se



###