Features
Instant-On Dedicated Access—Click-n-Connect with true V.92 speeds of 54,000 bps downstream & 28,800 bps upstream with the ability to reach 48,000 bps.
Release the full potential of the existing infrastructure & V.92 specs—BroadbandLite delivers enhanced throughput of 10 to 20 kbps on every pair compared with the standard dial-up experience of sub-5 kbps.
Dynamic Modem/Digital Support—All modems support V.92, V.44, V.90, & K56Flex, V.34+ or Lease Line
Standard Dual 10/100 Ethernet Ports—Flexible integration options for your high performance network
Easy Management—Complete SNMP/HTTP management
Litespan 2000 Compatibility—Seamless integration with the Alcatel provided infrastructure
Overview
The ForeFront RAS provides the ILEC/IOC, CLEC and PTT with a powerful and scalable access solution.
Building upon Patton's award-winning 2900 series of remote access servers, the ForeFront RAS offers increased port density, enhanced performance, and expanded service capabilities. Scaling from 96/120 ports per blade, a single chassis can support up to 1,560 calls. Through its unique distributed processing architecture, each blade operates independently of other system cards for maximum uptime. With support for enhanced data systems such as remote access services, the ForeFront RAS supports future multi-service access capabilities such as VoIP and DSL.
Designed to ensure no single point-of-failure for maximum uptime and high availability, the ForeFront RAS's modular platform incorporates redundant AC or DC power supplies and hot-swappable/field-upgradable network resource cards providing a versatile, scalable, and complete remote access solution.™
PMC expansion port—Network expansion options enable the 3125RC to offer new revenue opportunities

Dual 10/100 Ethernet Ports—Allow flexible integration options for your high-performance network. Each 10/100 Ethernet provides a primary and secondary port

SNMP/HTTP management—Embedded HTTP server provides complete configuration and control using a web browser, as well as standard tools

Quad T1/E1 ports for 120 ports of RAS or uplink services—Terminate any combination of modems/ ISDN connections, or expand into remote locations and use the 3120 as a complete PoP solution
Applications
Corporate site/remote office/POP
Patton designed the ForeFront RAS to meet the infrastructure requirements of service providers and corporations who rely on multi-service access servers for their networks. Employees working in remote offices; mobile users; and telecommuters access the network from various line types for critical data and applications required to perform their daily tasks. The ForeFront RAS uses the latest DSP technology to terminate both analog (V.92, V.90, K56Flex, V.34+) and digital ISDN modem calls with the future ability to augment multi-service capabilities.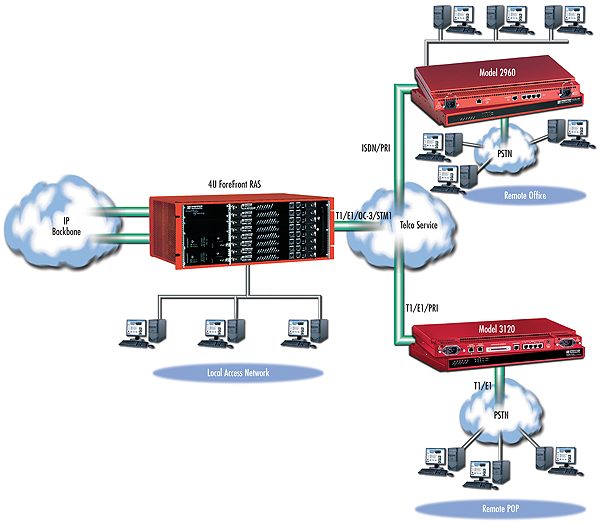 Dedicated & Dial-up Access
Designed to ensure maximum uptime and high availability, the ForeFront RAS eliminates any single point-of-failure with standard redundant systems.
Hot swappable AC or DC power supplies
Integrated cooling
Fully redundant systems
Expansion capabilities
Field upgradability
Specifications
Number of Connections:
96/120
Power Supplies:
Dual Redundant (Fixed) AC
Ethernet Ports:
One 10/100Base-T
WAN Ports:
Four
Modem Modulations:
V.92, V.90, K56Flex™, V.34 Annex 12, V.34, V.32bis, V.32, V.23, V.22, V.22bis, V.21, Bell 212A, Bell 202, Bell 103, EIA-PN-2330, V.8, V.8bis, Sync/Async receiver/transmitter for V.14, V.42/V.42bis error correction & compression
PSTN Signaling:
E1 Primary Rate interface (Q.931), E1 MFR2 (R2), T1 Primary Rate Interface, T1 Robbed bit with Loop/Ground Start or E&M Wink, E&M Immed, Taiwan R1 and Drop & Insert
Management Services:
HTTP, SNMP, TELNET Dial-in and Ethernet or RS-232 console port, SYSLOG client, Remote software upgrade via FTP, User configurable login prompts and banners
Authentication:
RADIUS, PAP/CHAP, Username/Password, and Static Users Database (111 Entries)
Software Upgrades:
Achieved through Flash upgrades via FTP. Software available at
upgrades.patton.com
Warranty:
1-Year Standard Warranty. Upgrade available to a 5-year Enhanced Waranty (includes Advance Replacements)
Protocol Services:
TCP/IP suite with extensive protocol statistics—ICMP/TFTP/FTP/RLOGIN/TELNET • Ethernet ARP, Proxy ARP and RARP protocols • Point-to-Point Protocol (PPP) • SLIP protocol • Van Jacobson TCP header compression PPP address and protocol compression • RADIUS authentication and accounting, with support for primary and secondary servers • RIP, RIPv2 and OSPF dynamic route distribution*—user configurable static routes • MultiLink PPP • Multi-chassis MultiLink • Layer 3 and Layer 4 IP Filtering • NFAS • DNIS
Dial-out Services:
Dial-out with support for multi-link PPP • Single-line call-back • Remote authentication using PAP and CHAP and session time
* OSPF feature in development. Call for availability.
Ordering

Sorry!
Ordering information for this product is not publicly available at this time.
Please accept our apology as we regret any inconvenience to you.

For more information
about the availability of this product and/or alternative solutions,
please contact Patton's Product Management team at
sales@patton.com or +1 301 975 1000

| | | |
| --- | --- | --- |
| Item Number | Item Description | Price |
| SVC-P-7x24-L | Premium Support with guaranteed response and remedy times 24x7. See your sales rep for details. Annual Subscription over 10,000 units deployed. | Contact us for availability and pricing. |
| SVC-P-7x24-M | Premium Support with guaranteed response and remedy times 24x7. See your sales rep for details. Annual Subscription 1,000 to 10,000 units deployed. | Contact us for availability and pricing. |
| SVC-P-7x24-S | Premium Support with guaranteed response and remedy times 24x7. See your sales rep for details. Annual Subscription up to 1,000 units deployed. | Contact us for availability and pricing. |
| SVC-P-SH-L | Premium Support with guaranteed response and remedy times for regional business hours support Mo-Fr. See your sales rep for details. Annual Subscription over 10,000 units deployed. | Contact us for availability and pricing. |
| SVC-P-SH-M | Premium Support with guaranteed response and remedy times for regional business hours support Mo-Fr. See your sales rep for details. Annual Subscription 1,000 to 10,000 units deployed. | Contact us for availability and pricing. |
| SVC-P-SH-S | Premium Support with guaranteed response and remedy times for regional business hours support Mo-Fr. See your sales rep for details. Annual Subscription up to 1,000 units deployed. | Contact us for availability and pricing. |
| SVC-ENHWAR1 | 1 Year Enhanced Warranty | Contact us for availability and pricing. |
| SVC-ENHWAR2 | 2 Year Enhanced Warranty | Contact us for availability and pricing. |
| SVC-ENHWAR3 | 3 Year Enhanced Warranty | Contact us for availability and pricing. |
| SVC-ENHWAR4 | 4 Year Enhanced Warranty | Contact us for availability and pricing. |
| SVC-ENHWAR5 | 5 Year Enhanced Warranty | Contact us for availability and pricing. |
| SVC-EXTWAR2 | 2 Year Extended Warranty | Contact us for availability and pricing. |
| SVC-EXTWAR3 | 3 Year Extended Warranty | Contact us for availability and pricing. |
| SVC-EXTWAR4 | 4 Year Extended Warranty | Contact us for availability and pricing. |
| SVC-EXTWAR5 | 5 Year Extended Warranty | Contact us for availability and pricing. |
| SVC-TECH-HOUR | Network technician hour rate for Pre-config services, after hours support etc? | Contact us for availability and pricing. |

Catalogs (PDF) -- Requires Adobe Acrobat to view
Patton Electronics Product Line Catalog #21 (High resolution, print quality)
August 25, 2008
Patton Electronics Product Line Catalog #21 (Low resolution, for dial-up users)
August 25, 2008

Data Sheets (PDF) -- Requires Adobe Acrobat to view
3125RC Datasheet
July 27, 2009
3125RC-A4 Datasheet (A4 page size)
July 27, 2009

Manuals (PDF) -- Requires Adobe Acrobat to view
Model 3125RC Guide, Administrator's Reference
February 21, 2012
Model 3125RC User Manual
February 21, 2012

News Releases
Patton and FedEx Announce Faster, Better, Cheaper Logistics
July 12, 2011
Patton Earns ISO 9001:2008 Certificate
April 27, 2010
Patton Installs New Regional Director in Burgeoning Latin America Market
March 09, 2009
Patton Partners with JTS to Take Double Share of Japan's Network Equipment Market
February 09, 2009
Milan Sales Office Supports Rising Demand for Patton Equipment in Southern Europe
December 16, 2008
>> More

Product/Solutions Guides (PDF) -- Requires Adobe Acrobat to view
Remote Access Product Guide
May 18, 2010
ForeFront™ Access Infrastructure Guide
May 03, 2010
Multi-Services Over SDH Solutions Guide
March 30, 2009