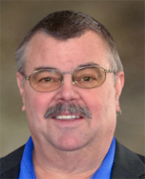 Bruce E. Patton | Vice President of Finance and Administration

Bruce E. Patton started with Patton Electronics in May of 1984 on a part-time basis and went full-time in 1985. Currently he is Vice-President of Finance & Administration with the company. Bruce oversees all the Accounting and Administrative activities for the company.

As Patton Electronics' first full-time employee, Bruce had hands-on experience in managing most operational areas of the company, including Production, Test, Purchasing, Accounting, Material Control, Warehouse management, Shipping and Receiving, Facilities, Credit and Collections, and Quality Control. Bruce has a BS degree in Production Management from the University of Maryland and a Masters in Leadership from Freedom Bible College and Seminary. Before joining Patton, Bruce worked for several companies includingóWestinghouse and Littonódoing Production Management and Planning.

Bruce is married and has eight children which serves as his second full-time job.