Reach remote offices, across campus, over the last mile, or from your enterprise to the Metro Area Network (MAN) with Patton's ultra-miniature Model 1170 Series Ethernet Extenders. Combining high performance with plug & play convenience, FibreLink™ models cost-effectively extend your Ethernet segments over single or multimode fiber with immunity to electromagnetic interference (EMI).

Future-proof. Select FiberLink models support 10 or 100 Base-T with full/half-duplex auto-sensing. So when you extend a 10Base-T segment today with a pair of these micro-sized devices you're equipping your network for future migration to 100Base-TX.

Plug & Play. FibreLink's LED indicators convey quick & easy status-at-a-glance while the convenient MDI-X feature cuts out cross-over cable hassles.
more (singlemode)... more (multimode)...

Product Features & Benefits
• Copper-to-Fiber Ethernet Conversion & Extension
• EMI Immunity
• "Future-Proof" Network Migration
• MDI-X Capability plus LED Status-at-a-Glance
• Hassle-free Plug-and-Play Installation
• Ultra-miniature Footprint
• Contact Sales

Nuclear Power. Jeff Dean's outdated radiation dose-management system ran

"When we're offline it's like a million bucks a day so this system directly impacts our operations. Without Patton we couldn't have put the system in."
Jeff Dean,
Instrument Physicist
Exelon Nuclear

over legacy copper cables installed during the plant's construction. Replacing those twisted pairs for the new state-of-the-art dosimetry network would cost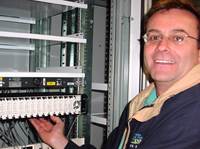 Jeff Dean with his Patton Rack

a prohibitive $1 million to penetrate, reseal, and re-test multiple concrete fire walls. Full Story (PDF)...

Solution Benefits
• Cut Installation Costs
• Break Ethernet Distance Barrier
• Leverage Legacy Investment
• Maximize Network Resources
• Flexible Deployment
• Easy to Install & Configure

Patton Solution. Find out how Exelon saved $985,720... read the new Patton RealityCheck (PDF)...
End Users, VARs, Integrators, Distributors and Carriers: Patton provides plenty of perks to our highly valued partners. Cash in on the benefits. . . Have you JOINED? Get YOURS!