Get our eSBC white paper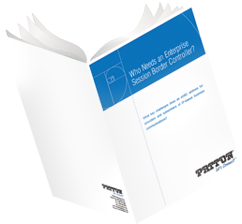 Who Needs an Enterprise Session Border Controller?

What key challenges does an eSBC address for providers and subscribers of IP-based business communications?


View the Webinar!





Save Money. Gain Security. Patton eSBC





How does an eSBC improve your business communication?

Do you know why you need an eSBC? Is an eSBC required or is it only a sales trick? Do you really need more security? This webinar is intended for system integrators, installers, re-sellers and small-to-medium enterprises.