Features


Range to 17 Miles (27.4 Km) on 19 AWG @ 1200 bps
Data Rates to 19,200 bps
No AC Power or Batteries Needed
External DCE/DTE Switch
FCC Approved-Part 15 Class A
Very Thin Case (.75/1.9cm) for Closely Spaced Computer Ports
"S" Versions Have 600 Watts per Wire of Built-in Surge Protection
Made in the USA — This Patton equipment is designed by Patton engineers and built in our Gaithersburg, Maryland facility. Patton's American-made manufacturing process delivers high-quality networking solutions with reliability you can trust.
Overview
The Model 1000 async short range modem plugs directly into a DB-25 RS-232 port and support distances up to 17 miles (27.4 Km) on 19 AWG at 1200 bps over two unconditioned twisted pairs. Operating at data rates up to 19.2 kbps, this cost saving device does not require AC power or batteries to operate. The Model 1000 is DCE/DTE switchable, and is compatible with the Patton Model 1009 and 1015. The Model 1000S incorporates 600 Watts per wire of built-in Silicon Avalanche Diode surge protection.
Highlights
DB-9 (EIA-574) & DB-15 Versions Also Available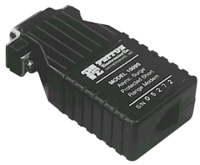 Ordering
| | | | |
| --- | --- | --- | --- |
| # | Model # | Description | Availability |
| 1 | 1000SF | MINI ASYNC. LINE DRIVER W-PROTECTION | End of Life-Notice |
| 2 | 1000SFRJ11 | MINI ASYNC. LINE DRIVER W-PROT & RJ-11 | End of Life-Notice |
| 3 | 1000SFRJ45 | MINI ASYNC. LINE DRIVER W-PROT & RJ-45 | End of Life-Notice |
| 4 | 1000SM | MINI ASYNC. LINE DRIVER W-PROTECTION | End of Life-Notice |
| 5 | 1000SMRJ11 | MINI ASYNC. LINE DRIVER W-PROT & RJ-11 | End of Life-Notice |
| 6 | 1000SMRJ45 | MINI ASYNC. LINE DRIVER W-PROT & RJ-45 | End of Life-Notice |