Features

BRI & FXS interfaces —2 or 4 ISDN BRI S0/T0 and 2 or 4 FXS ports. 4–8 G.722/G.711 or 4–8 T.38 calls simultaneously. Optional SIP TLS/SRTP.
Advanced Local Call Switching—Virtual interfaces and routing tables provide industry leading flexibility in call handling programming. Local call switching, soft fall-back to alternative routes. Simultaneously connects to multiple SIP services/IP PBXs.
Network Monitoring —Embedded PacketSmart Agent for network monitoring and assessment 24x7.***
Auto-Provisioning—Secure zero-touch provisioning (HTTPS) for ease of use.
Proprietary OS—Utilizes proprietary Trinity software for enhanced security.
Full VoIP protocol support

—SIPv2, SIPv2 over TLS, ISDN, DSS1, QSIG

**

, T.38, G.722 HD voice, RTP Security with SRTP, fax and modem bypass, DTMF relay.

Ease of Use—Patton's Web Wizard is a time saving tool for a fast and reliable installation.
Outstanding Interoperability—Interoperable for voice and T.38 fax with leading SIP service providers, softswitch vendors, and major IP-PBX manufacturers.
Why SmartNode™?

Patton Quality
Made in the USA
Unrivalled Customer Support
FREE Support and Upgrades
Number of Calls:

Default - Ships with
Max possible (upgradeable)
License SKU
Transcoded SIP to SIP calls

0

4

SNSW-TC &SNSW-1B

SIP to SIP calls (same codecs)
4
200
SNSW-1B
SIP to TDM (BRI&FXS)


4

8
SNSW-49V1



Overview
The SN4150 series is the perfect choice for All-IP applications where legacy, non-replaceable telephones have to be integrated into a UCC environment (or for good old fax devices to be migrated to the next-generation network infrastructure).
The combo configuration of 2 BRI and 2 FXS or 4 BRI and 4 FXS fits the requirements of small and medium-sized enterprises requiring a solution to enable legacy equipment for VoIP networks.
Patton's SmartNode 4150 Series deliver the legacy phone interfaces, service transparency, and flexible integration required for All-IP networks.
Applications
In All-IP networks as well as during the migration to the next generation communication network, legacy telephone equipment will remain for quite some years. The SmartNode 4150 will be responsible for maintaining the ISDN and analog interfaces when the telephony service is switching to an All-IP (VoIP) service. With its ability to convert modem and fax signals to VoIP, it solves problems integrating PoS, metering systems, elevator phones, etc. to an All-IP environment.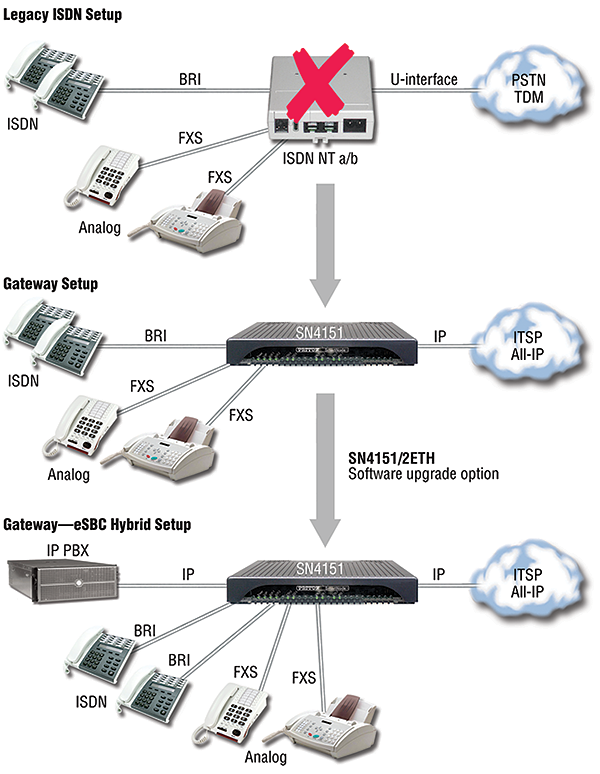 Ordering
#
Model #
Description
Availability
1
SN4151/2BIS2JS4VHP/EUI
SmartNode VoIP Gateway, 2 BRI, 2FXS, 4 VoIP Calls upgradeable (max. 6), or 4 SIP-SIP calls (SIP b2b UA) upgradeable (max. 200), Optional SIP-TLS, SRTP, High Precision 5ppm Clock, 1x Gig Ethernet, external UI power (100–240 VAC) NA/EU
General Availability

Accessories

2
SN4151/2ETH2BIS2JS4VHP/EUI
SmartNode VoIP Gateway, 2 BRI, 2FXS, 4 VoIP Calls upgradeable (max. 8), or 4 SIP-SIP calls (SIP b2b UA) upgradeable (max. 200), Optional SIP-TLS, SRTP, High Precision 5ppm Clock, 1x Gig Ethernet, external UI power (100–240 VAC) NA/EU
General Availability

Accessories

3
SN4151/2ETH4BIS4JS8VHP/EUI
SmartNode VoIP Gateway, 4 BRI, 4 FXS, 8 VoIP Calls not upgradeable, or 4 SIP-SIP calls (SIP b2b UA) upgradeable (max. 200), Optional SIP-TLS, SRTP, High Precision 5ppm Clock, 1x Gig Ethernet, external UI power (100–240 VAC) NA/EU
General Availability

Accessories

4
SN4151/4BIS4JS8VHP/EUI
SmartNode VoIP Gateway, 4 BRI, 4 FXS, 8 VoIP Calls not upgradeable, or 4 SIP-SIP calls (SIP b2b UA) upgradeable (max. 200), Optional SIP-TLS, SRTP, High Precision 5ppm Clock, 1x Gig Ethernet, external UI power (100–240 VAC) NA/EU
General Availability

Accessories
SmartNode™ Awards