Features

Up to three 10/100 Ethernet Ports—Easily bridge the gap between the LAN and Core Network with differentiated service offerings
Extensive IP Routing Support—Support for RIP, OSPF, and BGP4 allows easy interoperability and integration.
IP User Management—DNS caching, NAT, NAPT, IGMP, DiffServ, & RADIUS make it easy to create and manage any service. Add L2TP LAC or GRE for per-user tunnels.
VLANs—Support the transparent passing of VLAN traffic or add VLAN tags to facilitate core switching
Firewall&emdash;Built in IP address and IP port filtering, makes firewall services a snap.
SNMP/HTTP Management—SNMP/HTTP manageable from anywhere in the world including attached CPE units
NAT/PAT—Easily perform IP address and IP port translation on any interface
Overview
The Model 6081RC is an access router and VLAN aggregator for the ForeFront AIS that is optimized to process traffic from multiple channelized T1/E1 and DSL interfaces. The EdgeRoute converts any ForeFront AIS chassis into a powerful IpDSLAM and modular access router. The 6081RC is available with up to three 10/100BaseT Ethernet ports and takes advantage of any port attached to a ForeFront System for servicing the most bandwidth hungry access applications.
Leverage the supported RADIUS Accounting and Authentication features of the 6081RC to provide dynamic service authentication to any user. With RADIUS, existing subscriber profiles do not need to change and integration with existing billing systems can be maintained when migrating the user from dial-up to dedicated DSL or TDM access.
Easily tailor and manage the level of service to the needs of the organization. Filter by IP address, IP port, or by physical port. Provide routed IP service using RIP, OSPF, or static routes. Use NAT/PAT for masquerading applications or to perform simple translation. Support simple bridged traffic, transparently passing VLAN tagged frames or add VLAN tags to enhance the switching of traffic by the core network.
With SSH, secure management connections into the unit are a snap. The 6081RC supports a very easy to use WWW/SNMP interface permitting control and configuration from any PC or workstation with a web browser. Compatibility with SNMP management platforms permit easy integration into almost any established networking environment.
Operating Features
The Model 6081RC is a feature rich service provisioning platform with the ease of management required by service providers. Included with the purchase of every unit is free initial configuration support, one year of free technical services, one year warranty, and free software upgrades. Features include:
Value added Routing Features

Port wholesaling capabilities supported via Layer 2
VLAN tagging (802.1q)
Extensive IP port and address filtering facilitates basic firewall configurations.
RADIUS accounting, authentication, and authorization (AAA) make the migration of subscribers to high speed services a snap.

Complete Network Management

RS-232 Console port
Integrated SNMP/HTTP (Browser)
Command Line Interface
Syslog Client
Telnet
SSH
SNTP for reliable time stamping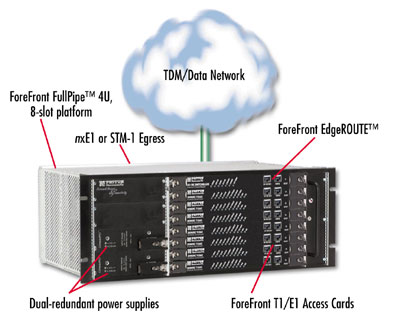 Specifications
Routing
RIPv1 (RFC 1058), RIPv2 (RFC 2453), *OSPFv2 (RFC 2328/2740), *BPG4 (RFC1771/2858),VLSM (RFC 1878)
RADIUS client
Authentication (RFC 2865 & 2868), Accounting (RFC 2866 & 2867), PAP (RFC 1332), CHAP (RFC 1334 & 1994)
IP Services
(RFC1701/2784), ARP (RFC0826), Proxy-ARP (RFC1027), ICMP (RFC0950, RFC1256), NTPv3 (RFC1305), IGMP & IGMPv2 (RFC2236), NAT (RFC 1631/2663/2766/2993), *GRE, *L2TP LAC, *IPSec, *AES/DES/3DES
Ethernet Ports
Dual 10/100BaseT (RJ-45 connector); auto-negotiating; half or full duplex operation
Front Panel Indicators
LEDs for power, CPU, system, Ethernet, External clock, and test mode
Ethernet Services
802.1q VLAN tagging; transparent passing of VLAN tagged Ethernet frames
HDLC Services
PPP (RFC 1661, 2153), LCP (RFC 1570, 2484), BCP (RFC 1638), IPCP (RFC 1332)
Management Service
HTTP, SNMP, Telnet Ethernet, RS-232 Console Port, SYSLOG Client, Software upgrade via FTP, SSH, SNTP
Alarm Reporting
Configurable alarms; Remote SNMP Traps; Front Panel LEDs Safety: UL/CSA per UL1950 (METS) Canadian cMET and CS-03.
Compliance
EMC Directive 89/336/EEC, Low-Voltage Directive 73/23/EEC (EN60950), FCC Part 15, CE Mark, CTR12, CTR13, FCC Part 68
Environment
Operating temperature: 0-40°C (32-104°F) Humidity: 5-90% non-condensing
Dimensions

Front blade: 0.75 H x 10.5 W x 6.3 D in. (1.9 H x 26.7 W x 16.0 D cm)
Rear blade: 0.75 H x 10.5 W x 3.15 D in. (1.9 H x 26.7 W x 8.0 D cm)

*NOTE:
Advanced features dependent on TrinityAE Software Versions. Call for details.
Ordering
| | | | |
| --- | --- | --- | --- |
| # | Model # | Description | Availability |
| 1 | 6081RC/800H | ForeFront IP ROUTER Module, 800MHZ CPU, Single 10/100 and dual 10/100 2.16 connections | Contact us for Availability |
| 2 | 6081RC/800H/FE2P | IP Router, H110, 800MHz,w/PMC ENET | Contact us for Availability |
| 3 | 6081RC/800H/FE2T | IP Router, H110, 800MHz, W/ Dual rear ENET | Contact us for Availability |
| | | |
| --- | --- | --- |
| Item Number | Item Description | Price |
| SVC-P-7x24-L | Premium Support with guaranteed response and remedy times 24x7. See your sales rep for details. Annual Subscription over 10,000 units deployed. | Contact us for availability and pricing. |
| SVC-P-7x24-M | Premium Support with guaranteed response and remedy times 24x7. See your sales rep for details. Annual Subscription 1,000 to 10,000 units deployed. | Contact us for availability and pricing. |
| SVC-P-7x24-S | Premium Support with guaranteed response and remedy times 24x7. See your sales rep for details. Annual Subscription up to 1,000 units deployed. | Contact us for availability and pricing. |
| SVC-P-SH-L | Premium Support with guaranteed response and remedy times for regional business hours support Mo-Fr. See your sales rep for details. Annual Subscription over 10,000 units deployed. | Contact us for availability and pricing. |
| SVC-P-SH-M | Premium Support with guaranteed response and remedy times for regional business hours support Mo-Fr. See your sales rep for details. Annual Subscription 1,000 to 10,000 units deployed. | Contact us for availability and pricing. |
| SVC-P-SH-S | Premium Support with guaranteed response and remedy times for regional business hours support Mo-Fr. See your sales rep for details. Annual Subscription up to 1,000 units deployed. | Contact us for availability and pricing. |
| SVC-ENHWAR1 | 1 Year Enhanced Warranty | Contact us for availability and pricing. |
| SVC-ENHWAR2 | 2 Year Enhanced Warranty | Contact us for availability and pricing. |
| SVC-ENHWAR3 | 3 Year Enhanced Warranty | Contact us for availability and pricing. |
| SVC-ENHWAR4 | 4 Year Enhanced Warranty | Contact us for availability and pricing. |
| SVC-ENHWAR5 | 5 Year Enhanced Warranty | Contact us for availability and pricing. |
| SVC-EXTWAR2 | 2 Year Extended Warranty | Contact us for availability and pricing. |
| SVC-EXTWAR3 | 3 Year Extended Warranty | Contact us for availability and pricing. |
| SVC-EXTWAR4 | 4 Year Extended Warranty | Contact us for availability and pricing. |
| SVC-EXTWAR5 | 5 Year Extended Warranty | Contact us for availability and pricing. |
| SVC-TECH-HOUR | Network technician hour rate for Pre-config services, after hours support etc? | Contact us for availability and pricing. |

Catalogs (PDF) -- Requires Adobe Acrobat to view
Patton Electronics Product Line Catalog #21 (High resolution, print quality)
August 25, 2008
Patton Electronics Product Line Catalog #21 (Low resolution, for dial-up users)
August 25, 2008

Data Sheets (PDF) -- Requires Adobe Acrobat to view
Enhanced Warranty
March 07, 2012
Model 6081RC Datasheet
July 27, 2009
Model 6081RC Datasheet (A4 page size)
July 27, 2009

Manuals (PDF) -- Requires Adobe Acrobat to view
Trinity Feature Appendix: Data Channel Configuration
February 24, 2012
TrinityAE Release 2.6 Administrator's Reference Guide
February 24, 2012
Trinity Feature Appendix: System Clocking
February 24, 2012
Model 6081RC User Manual
February 20, 2012
Model 6081 PMC Ethernet Module Guide, Installation
February 20, 2012
Model 6081RC Applications Guide
December 03, 2004

News Releases
Patton and FedEx Announce Faster, Better, Cheaper Logistics
July 12, 2011
Patton Earns ISO 9001:2008 Certificate
April 27, 2010
Patton Installs New Regional Director in Burgeoning Latin America Market
March 09, 2009
Patton Partners with JTS to Take Double Share of Japan's Network Equipment Market
February 09, 2009
Milan Sales Office Supports Rising Demand for Patton Equipment in Southern Europe
December 16, 2008
>> More

Product/Solutions Guides (PDF) -- Requires Adobe Acrobat to view
ForeFront™ Access Infrastructure Guide
May 03, 2010
Multi-Services Over SDH Solutions Guide
March 30, 2009