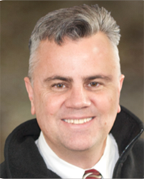 Robert R. Patton | President and CEO


Robert R. Patton (Bobby) was appointed CEO of Patton Electronics Company in January 2009, having already been responsible for the company operations as President since January 1, 2000. Bobby's primary responsibility is to oversee and deliver on company performance bringing particular attention to product strategy and customer satisfaction. Bobby is focused on building the Patton culture to be ever more responsive to customer needs, new technologies and market dynamics amidst a very volatile economy.

Bobby has held a number of positions since co-founding Patton in 1984 with his brothers. Before becoming President Bobby was Vice President of Engineering, where he drove all activities related to Patton's product development effort. He shaped the organization to introduce dozens of new products every year throughout the '90s. In the early years of the company Bobby's focus was on Sales and Technical Services.

A graduate of the University of Maryland, Bobby earned a degree in Computer Science from the University's Division of Mathematical and Physical Sciences and Engineering (now the ).

Bobby has strong interest in education and has served as a member of the Advisory Boards for both Electrical Engineering and Telecommunications Engineering; a member of the ; and Chairman of External Advisory Board for the .

Bobby is active on the , was appointed by Goversnor Hogan to the , and was appointed by the US Secretary of Commerce to serve a four year term on the , working closely with the US Department of Commerce Commercial Service.

Bobby has served on the Young Life Washington Metropolitan Regional Board. In his free time, he enjoys being a husband and father of five children and working with his wife as a volunteer with .