An eSBC is required in All-IP and unified communications (UC) networking environments. In contrast to a VoIP gateway (see What is a
VoIP Gateway?
), which converts traditional TDM telephony to packet-based voice, a SIP eSBC is typically deployed in IP-to-IP implementations. Security issues-snooping, hacking, and especially toll fraud, are major concerns. To hide network topologies and protect service-provider and enterprise packet networks from malicious activity, an eSBC may terminate a received call and initiate a second call to the destination entity. This function is known as a back-to-back user agent (B2BUA). I high quality eSBC also provides transcoding for Wan optimizations and bandwidth management. Certain vendors have coined other names for their SBC products, including Multimedia Border Element (MMBE) or Unified Border Element. For more information about eSBCs and the challenges they can solve, get the white paper:
Who needs a Session Border Controller?
Typical eSBC Applications
eSBCs can address various technical and practical challenges for organizations that wish to implement SIP trunking and/or unified communications (UC) solutions. Some common application scenarios are described below.
All-IP Communications with SIP Trunking
For SIP-to-SIP voice communications over a SIP trunk, interoperability is a common concern. Will the organizations IP PBX "play nice" with the SIP server in the ITSP network. The eSBC stationed on the customer premise can provide protocol translation (SIP normalization) to ensure everything works as planned.

Network Integration: Migration to All-IP with WAN Fallback/Failover
Many enterprises, from small to large, want to transition to All-IP IP communications, yet have concerns about reliability and/or existing PSTN service contracts. Using an eSBC that also provides legacy telephony ports, the existing PBX and PSTN connection can be preserved, while a new IP-PBX is introduced, tested, and proven. A a lifeline BRI interface, for example, can provide failover to a secondary provider or alternate WAN link for business continuity in the event of IP network failure.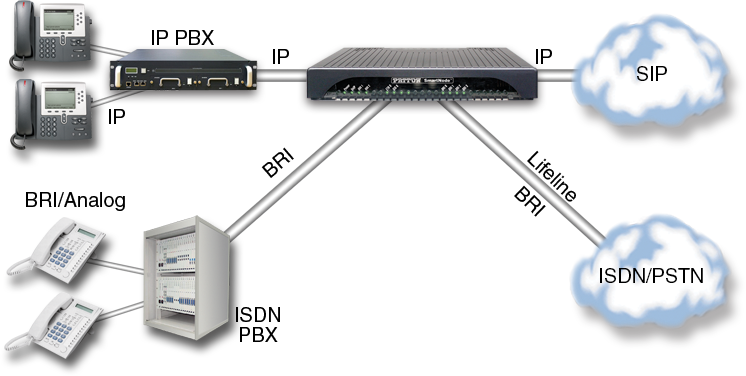 eSBC Terminology
Short Glossary of Related Acronyms
B2BUA - Back-to-Back User Agent
CPE - Customer Premise Equipment
eSBC - Enterprise Session Border Controller
IP - Internet Protocol
ITSP - Internet Telephony Service Provider
SBC - Session Border Controller
SIP - Session Initiation Protocol
UC - Unified Communications
VoIP - Voice over IP
WAN - Wide Area Network


eSBC Synonyms
MMBR - Multimedia Border Element
CUBE - Cisco Unified Border Element