Positioned in the core or edge of the telecom carrier network, SS7 media gateways provide a built-in sigtran/SCTP and SS7 protocol stack that enables service providers to deliver SIP-over-IP (VoIP) services while maintaining the quality and the reliability of traditional TDM telephony networks. Service providers require T1/E1/J1 interconnections with other providers. A good SS7 media gateway must rapidly establish such interconnections with the flexibility to configure and support concurrent use of ISDN, SS7/C7, CAS (R2), SIP, and SIGTRAN signaling protocols.
Typical SS7 TDM + VoIP Gateway Application
The SmartNode 10200 can be used as a carrier CPE that provides SIP trunks to large corporations. Supported business scenarios include large legacy PBX, outsourced call center with overseas operations, large legacy-based call centers, IP migration for large call centers or large-enterprise phone systems.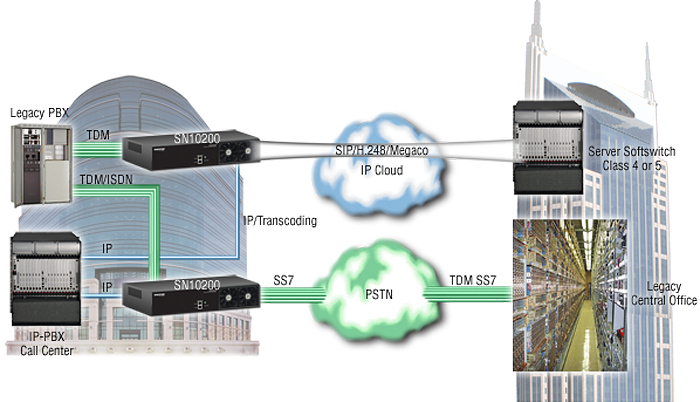 SS7 Media Gateways that Work
At Patton Electronics, we have developed a comprehensive range of SS7 VoIP gateways to address the specific requirements of a wide variety of SS7 to SIP-over-IP voice applications. Supporting multiple signaling protocols, the SN10K provide a rich variety of business communications services-from ISDN telephony to Voice-over-IP (VoIP), SIP trunking, and Unified Communications (UC). Providing flexible N+1 redundancy options, Patton's SN10K solutions offer network architecture with no single point of failure. The SN10K series eliminates costly Media Gateway Controller (MGC) requirements by simultaneously supporting SS7, ISDN and SIP signaling in a single device. The simplified network architecture lowers operation and maintenance costs as well as capital equipment expense.
SS7 Media Gateway Terminology
Short Glossary of Related Acronyms and Terms
CAS - Channel Associated Signaling
CCS - Common Channel Signaling
ICR - Internet Call Router: Sometimes referred to as Internet Offload, the ICR is a network element used in "post-switch" off-load architecture.
SCP - Service Control Point: An SEP that acts as a database to provide information to another SEP for processing and/or routing network calls
SEP - Signaling End Point: An SP, (NOT an STP) that serves as a source or a sink for CCS messages
Signaling Gateway - A networking device that exchanges SS7 messages between a Voice Over Packet (VOP) network and a traditional PSTN network
Signaling Link - A connection between adjacent Signaling Points (SPs) in the CCS network
SP - Signaling Point: A network entity that transmits, receives, and processes CCS / SS7 messages. An SP may be a Signaling End Point (SEP) or a Signaling Transfer Point (STP)
SS7 - Signaling System Seven
STP - Signaling Transfer Point: An SP that performs message routing functions and switches messages between SEPs
Switch - An SEP that can switch end-user voice or data calls.


SS7 Media Gateway Synonyms
Signaling Gateway
SIGTRAN Gateway