Overview

It's no sprint transitioning telecom infrastructure to converged IP. . . it's a
long run
Carriers and service providers are adding SIP-over-IP capabilities to their SS7/sigtran networks, whether to reduce costs when interconnecting with other carriers, to cost-effectively build out their network footprints, or simply to transport voice traffic across their IP backbones. As a viable replacement for the recently EOL Cisco PGW 2200 SS7/C7 solution, the SmartNode 10200 Series SmartMedia TDMoIP SS7 gateway provides sigtran SS7 stack to bridge VoIP services between the traditional public switched telephone network (PSTN)—using time-division multiplexing (TDM) with SS7 sigtran protocol signaling—and emerging SIP-over-IP telephony networks. Positioned at the network core or edge, SmartNode SS7 media gateways enable service providers to preserve the quality and reliability of TDM networks with SS7 signaling while transitioning to advanced IP telephony.
TDM interfaces
Service providers, whether providing local, long-distance or international voice services, are interconnected with a multitude of other providers using T1/E1/J1, DS3 or STM-1 links. It is critical for service providers to be able to rapidly establish new interconnections without having to always deploy new devices. SmartNode 10200 Series media gateways therefore offer flexibility and can be configured to support T1/E1/J1, DS-3 or STM-1 interfaces.
Signaling and control protocols
Just as flexibility in the selection and deployment of TDM links is a key requirement for service providers, the need to support multiple signaling protocols across various carrier partners is just as important. Each SN10200 media gateway provides support for the concurrent use of ISDN, SS7/C7, CAS (R2), SIP, and SIGTRAN signaling in the same device. The ability to provide both switching and conversion across multiple TDM and IP signaling protocols at once is paramount to enabling the operational flexibility and cost savings that drive service providers to expand their carrier relationships and converge their networks.
In parallel with the TDM and IP signaling protocols mentioned above, SN10200 devices also support the H.248 media gateway control protocol, which enables any H.248-compliant 3-party softswitch to control a media gateway. While the softswitch manages call control interactions, the SN10200 handles transmission of call media as well as any required transcoding.
Media handling
Service providers will use one or more codecs on their VoIP networks according to their desire to save bandwidth, to provide a certain level of voice quality, or simply to interoperate with other VoIP devices or providers. The ability to support multiple different concurrent codecs and to allocate them in real time based on traffic is the key to delivering true network convergence.
SmartNode 10200 gateways feature extensive support for various wireline, mobile and IP telephony audio formats, delivering seamless transcoding in real-time. The media gateways ship with support for G.711, G723.1, G.726, and G.729ab right out of the box, with no additional license fee required. They also offer optional support for mobile and IP vocoders such as AMR, AMR-WB (G.722.2), GSM-FR/GSM-EFR, EVRC/QCELP, G.728, G.729eg, and iLBC. SN10200 gateways offer independent dynamic codec selection per channel. This means that it is possible to assign different vocoders to different channels, on a channel-by-channel basis. The devices can then run all of these codecs concurrently and do so with no impact on system performance.
SN10200 gateways also provide unparalleled support for Internet-based fax, also known as Fax over IP or Fax relay, using the T.38 protocol, which is used to carry fax communications over an IP network. (They also support the T.30 protocol for fax over the PSTN.)
System density
SN10200 gateways feature the industry's highest system density in a 2U form factor. Beside the capital savings achieved by purchasing less units of equipment, system density also provides operational cost savings in the form of reduced co-location fees as well as lower power and cooling costs.
Energy efficiency
For many, if not most, service providers, the payoff from reducing energy use can be particularly impressive; typically, for every watt of power required to operate a device, another watt is required to cool it. The SN10200 media gateways can play a major role in reducing energy costs, with an average two-thirds less power consumption than competing products of similar capacity.
Provisioning and maintenance
For network convergence efforts to contribute positively to revenue and profitability, service providers must maintain their reputation for uptime and availability during the introduction, operation, and maintenance of new services. The SN10200 offers OAM&P, an operations, administration, maintenance, provisioning (OAM&P) solution. OAM&P enables the service provider to perform the initial set-up of the SN10200 media gateway and any subsequent maintenance operations. These range from the simple, such as the collection of statistics and alarms, to the more complex, such as system configuration changes, the addition of new hardware or software components, and the application of software patches or software upgrades.
Applications
Enterprise Applications
Business Trunking Solutions
Softswitch compatible media gateways enable SIP Trunking services, providing a secure point of demarcation for the carrier and allowing subscribers to utilize existing TDM equipment including PBXs, IVR systems, Call Centers or other legacy equipment without expensive upgrades. High call density Media Gateways are needed for large Enterprises and Call Centers.
Call Centers
The legacy Call Center has gone through a metamorphosis, emerging as the IP Call Center which replaces the PBX and separate IVR and ACD systems and merges email and instant messaging into a new architecture that integrates these functions leveraging Voice over IP technologies. With IP Call Centers, full-featured Call Centers can be deployed with agents virtually anywhere globally where there is IP connectivity. IP Call Centers reduce costs leveraging inexpensive overseas labor or working at home agents (WAHA) and provide tremendous flexibility to adapt to changing markets and labor resources.
High-density gateways and SS7 signaling support are important for large enterprise Call Centers, either for large scale integration of legacy PSTN networks to IP-based Call Center applications or VoIP integration to legacy Call Center platforms.
Transcoding for the Enterprise
Wireline and wireless carriers now deliver high-quality internet telephony services over a range of customer-provided last-mile technologies including cable, ADSL, E1/T1 and RF facilities. Many of these services depend on using low bit rate coders to compress voice and improve network efficiency, especially to cross the last mile connection to their ISP. The range of voice coding algorithms has caused a huge interoperability challenge for integrators that are attempting to interface solutions from various vendors. Transcoding the voice from one format to another in real-time, with high quality and low-latency is a significant challenge. SmartNode transcoding offers the capability to mediate between these protocols and signaling.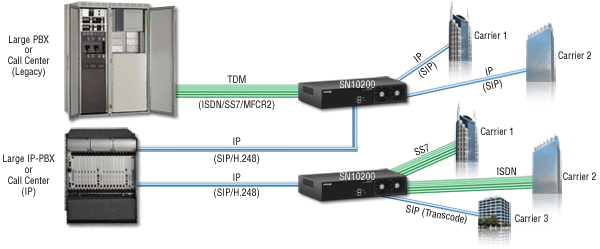 Carrier Applications
High Traffic CPE for the Enterprise
The SmartNode 10200 can be used as a Carrier CPE providing SIP Trunks to large corporation with large legacy PBX, outsourcing Call Center with overseas operations, large legacy-based Call Centers, IP migration for large Call Centers or large Enterprises.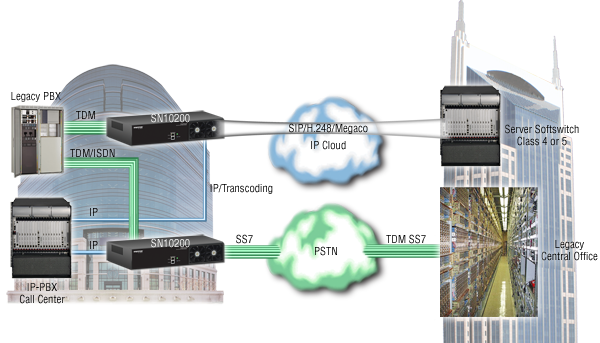 Carrier Core
The SmartNode 10200 is used on the Carrier core providing:
Wholesale origination and termination (i.e. calling cards)
Local, long distance and ILD carrier interconnection
Transcoding and IP to IP normalization
High definition voice transport
Fax over IP
LCR (least cost routing)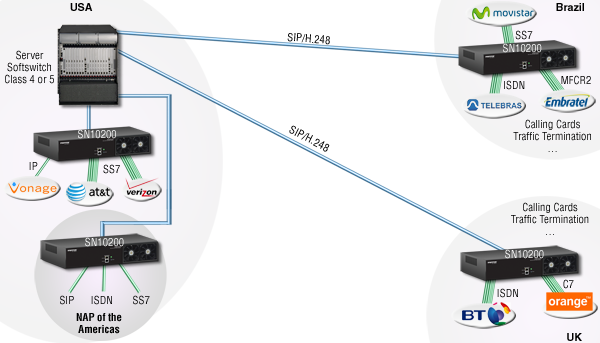 Carrier IP Migration
The SmartNode 10200 is usedfor IP integration in the core network (SS7 to SIGTRAN) as well as legacy central office integration to IP infrastructure.
IP Migration Carrier Edge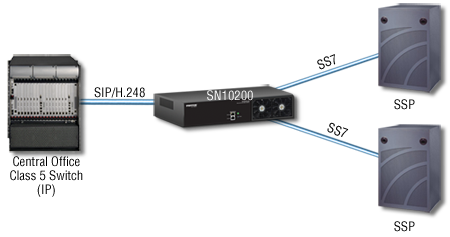 IP Migration Carrier Core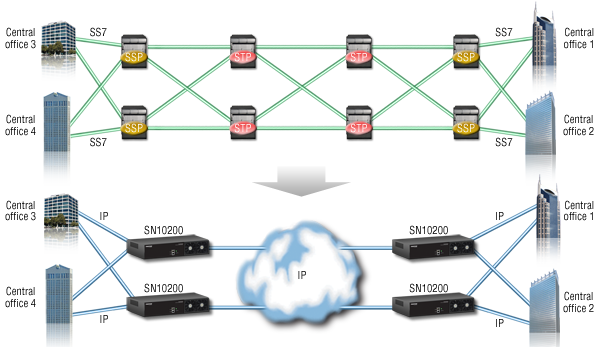 Value Added Services (Third Party Apps integration or Development)
Service providers are now building value-added services with all IP-based elements, typically using the SIP protocol, and in fewer cases using other IP protocols as the legacy H.323. These emerging IP-based networks offer enormous potential for generating new services and increasing revenue per subscriber, but the introduction of IP throughout the network also creates challenges. For all-IP environments, new elements are required that can mediate signaling, transcode among different media formats, and handle basic security issues.
Audio streaming applications (ex: ring back tones, background noise/music injection, etc.)
Interactive voice response (IVR)-based applications (ex: virtual assistant, follow me, call back, sponsoring ads, etc.)
IP roaming for mobile.
Social network integration
Temporary numbers to hide identity
Hosted conferencing