There are several types of VoIP adapters to address varying requirements in differing VoIP applications. Considerations include the number of ports needed, the port type or types required, and whether or not you have a router installed or need one built-in with the phone-adapter device.
Single Port FXS Adapters
If you only need to connect one end point to your VoIP service, a single FXS telephone adapter will do the trick. If you only need to IP-enable a single phone, this device will be the most affordable solution for you.
If you need to support fax transmission and reception using your new VoIP service, you should make sure the FXS adapter you purchase supports the T.38 fax relay and other Fax standards. The T.38 protocol enables fax-over-internet (FoIP) in real-time.
Patton SmartNode SN200/1JS 1 FXS Port Adapter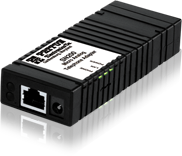 Patton SmartNode SN200/1JS provides one FXS port and lets you integrate an analog telephone or fax machine with your VoIP phone system. It supports the open SIP communications protocol, so you'll get a broad choice of VoIP platforms. It supports standard VoIP features such as call waiting and call forwarding, as well as high-quality sound and more advanced features.

Patton SmartNode SN200/1JS 1FXS : Key Features

3-way local conferencing
Web configuration interface and password protection
Compact (less than four inches in length) for easy placement
2-Port FXS Adapters
In contrast to a single FXS adapter, a dual FXS analog telephone adapter interconnects two analog telephony devices to your IP network. This might be two phones, two fax machines, or one phone and one fax machine. If you need to connect more than one device to your VoIP service network, a dual FXS phone adapter may meet your needs.
Patton SmartNode SN200/2JS 2 FXS Port Adapter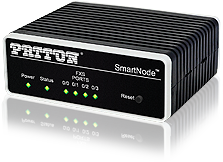 Whether used to connect two legacy telephones to an IP PBX, or to integrate legacy fax machines into a hosted UC environment, the SN200 port adapter can adapt to support every use-case. Orchestrated by the Patton Cloud, the CapEx associated with deployment, operation and management of the SN200 is the lowest in the market.


FXS/FXO Adapters
An FXS/FXO ATA provides from 2 to 8 analog telephony ports. One port is identical to the ones listed so far (FXS). However, these units also support FXO, which connects a plain old telephone system line (POTS) lines or Analog Trunks. These units let you mix various combinations of FXS and FXO analog ports.
Patton SmartNode SN4140 VoIP Gateway Adapter



Patton SN4140 series comes with either FXS or FXO ports or both. You can connect an analog telephone or fax machine to your VoIP phone system, and have FXO ports to connect to analog trunks, which may be used to provide a fallback phone service in case the SIP trunk fails. The sn4140 supports the open SIP communications protocol, which gives you a broad choice of VoIP platforms.


ISDN BRI Telephone Adapters
Like its analog counterpart, a digital phone adapter is designed to interconnect ISDN phones or other telephony end points that have BRI interfaces (S or T) with VoIP networks and systems. The difference between analog and digital adapters is each analog interface supports a single phone call, while a BRI interface can support 2 calls per line.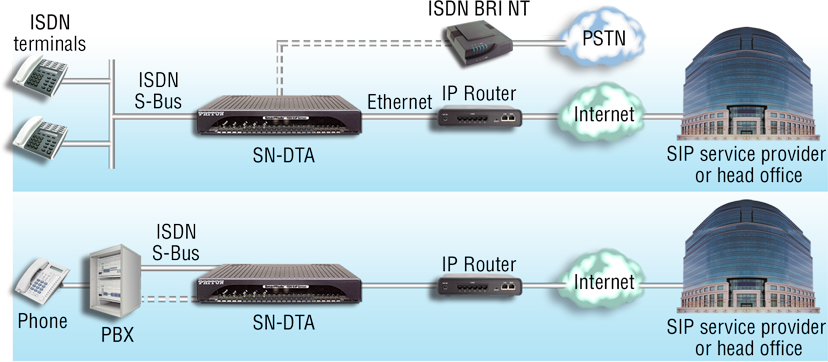 BRI Telephone Adapter Applications
Patton SmartNode Digital Terminal Adapter (SN-DTA)
To VoIP-enable devices with BRI interfaces, Patton offers the
SmartNode Digital Terminal Adapter
(SN-DTA). The SN-DTA is specifically designed to support such key ISDN services as AOC, PARE, CLIP, COLP, and others, which are mapped to SIP using industry-standard algorithms.
VoIP Adapters with Built-In Router
If you don't already have a router installed for your internet or LAN access, or if you only have a single Ethernet connection at your workstation, a VoIP gateway with a built-in router can address this requirement for your VoIP setup. Such a VoIP telephone adapter should have dual Ethernet ports: one to connect to your LAN and another to connect to your IP WAN service (Internet access). The Patton SmartNode SN5540 fits this bill.
Patton SN5540 VoIP Gateway Adapter with Built-in Router

In addition to being an adapter and VoIP Gateway, the SN5500 also provides business-class routing and enterprise session border control functions. All SN5540 models include IP Routing, RTP Transcoding, and SIP Registrar as well as SIP TLS-SRTP Software Feature Licenses.