Security
is a chief concern when implementing an Industrial automation system. The network equipment must provide access-control mechanisms that protect against intrusions from outside the plant, as well as inside the plant from inadvertent or unauthorized access.
Firewall
. Often, an Industrial network must connect to an office network or some external network such as the Internet. To control the data exchange between networks a firewall system is usually required. The firewall provides network separation that preserves the security, reliability and performance of the industrial network.
Industrial environments are generally much harsher that a typical office network environment where equipment is installed in a temperature-controlled wiring closet. In such industrial environments as a manufacturing floor, rail tunnel, or mine shaft, the equipment may be subject to oil sprays, water sprays, and physical vibrations. So, industrial devices are often protected in a ruggedized enclosure, and equipped with rugged, watertight connectors on one or both ends of the Cat-5 or Cat-6 cable. Such connectors include M12 connectors or M8 connectors, in contrast to the 8P8C connectors typically used in a home or business network.
Internet of Things (IoT)
. Because Industrial networks often interconnect devices that may also connect to the Internet, the technology is related to the Internet of Things (IoT). IoT may be defined as the connection of highly distributed physical objects, which have embedded electronics, computers, software, sensors or actuators, that connect to the internet for the purpose of collecting and exchanging data for monitoring and control. You can explore some IoT application scenarios on
Patton's IoT Solutions Web.
Applications
In understanding Industrial Ethernet technology, it may be helpful to consider some real-world applications. Several such case studies are introduced below.
Industrial Ethernet IoT in Mine Shafts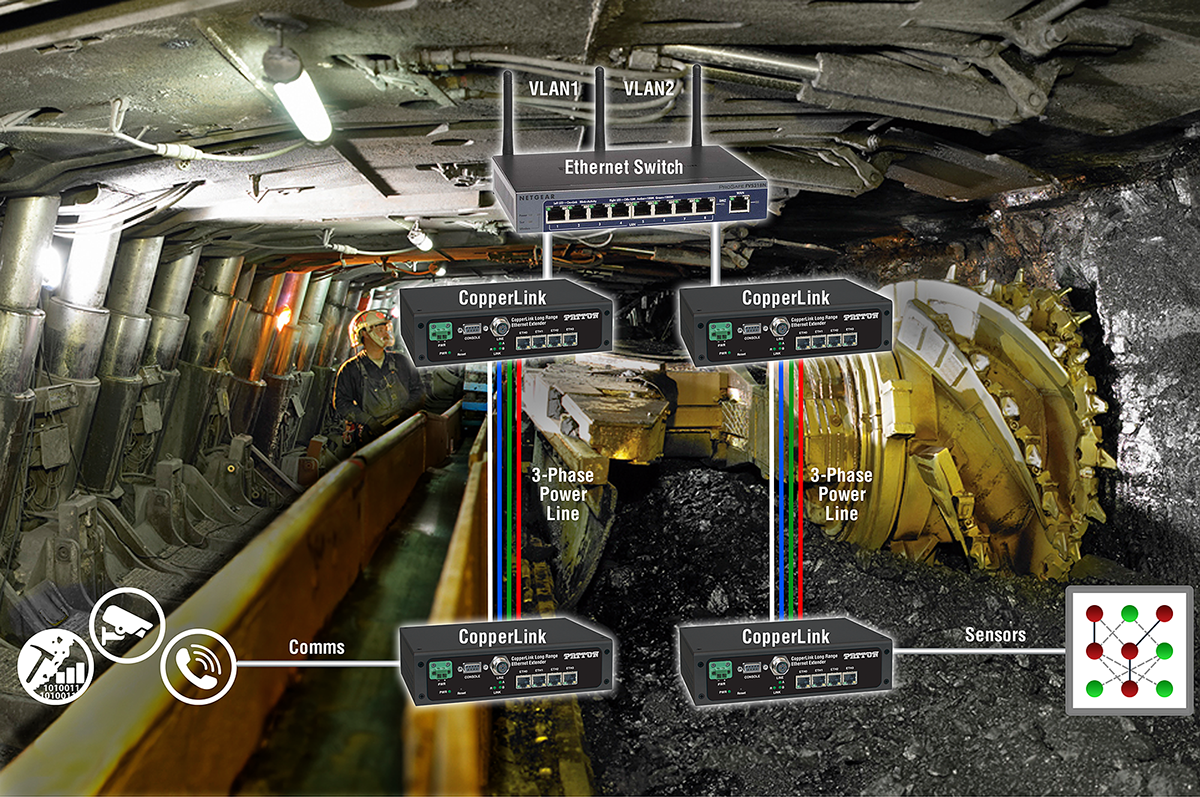 Coal Mine Shaft Solution
Communications from the underground operations to the above ground systems in coal mines is difficult. Running dedicated wiring is really not an option and most types of wireless communications won't work. Furthermore, Trinity Solutions needed the ability to transmit that data in all conditions including the preservation of critical communications after a cave-in. Patton, together with Trinity Solution, created a new product for delivering high bandwidth throughout, miles of underground, using those existing three-phase power lines; and it worked! The solution developed included some clever engineering to overcome the electrical noise generated by mining equipment.
IoT in Traffic Control Network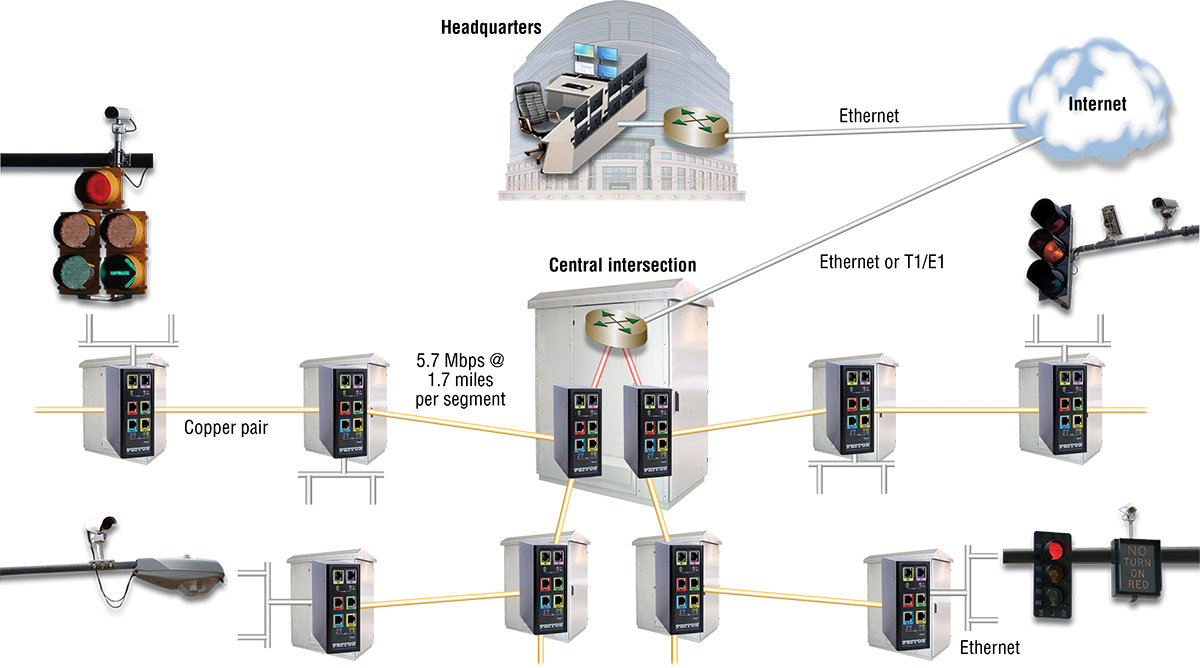 Traffic Control Application
The Maryland State Highway Administration had a mandate to modernize its traffic-control system. The existing system was a closed-loop architecture, which interconnected regional traffic controls over twisted-pair "outside-plant" using low-speed leased-line modems. The new system would be a centrally-managed IP network leveraging monitors in the intersections to provide intelligence to SHA on traffic conditions.
Video sensors mounted on traffic light support structures and inductor sensors are installed under the roadway between intersections. The sensors provide information about the density of drivers facing wait times and the rate of traffic flow through intersections. Patton's CopperLink Ethernet Extenders offer the perfect solution and was actually an in-state manufacturer of the needed networking devices. By enabling re-use of the existing infrastructure Maryland State Highway saved huge sums of money by avoiding new outside plant construction.
Related Terminology
Short Glossary of Related Acronyms
IE - Industrial Ethernet
PoE - Power over Ethernet
IoT - Internet of Things
DCS - Distributed Control System
SCADA - Supervisory Control and Data Acquisition
PLC - Programmable Logic Controller
RTU - Remote Terminal Unit
PID Controller - Proportional-Integral-Derivative Controller
GUI - Graphical User Interface


Related terms
Industrial Automation
Industrial Control System
Intelligent Automation
Automation Engineering
Automation Technology
Process Control
Control System
Control System Architecture

Industrial Automation Serial Protocols
RS-232 (aka TIA/EIA-232)
RS-422 (aka TIA/EIA-422)
RS-485 (aka TIA/EIA-485)

Technology Standards Associations
EIA - Electronic Industries Association
TIA - Telecommunications Industry Association
CCITT - Consultative Committee for International Telephony and Telegraph
ITU - International Telecommunications Union