Over and against a simple VoIP gateway, another benefit with a VoIP router is this: the device can provide PSTN fallback with voice-and-data survivability for business continuity in the event of an Internet or IP network failure. While most networks today employ session initiation protocol (SIP) for voice encoding, the earlier standard, H.323 is still in use. The best high-quality products are able to support both protocols, both of which are encapsulated in the data payload of the real-time protocol (RTP) protocol data unit (PDU). Another benefit is the capability to provide quality of service (QoS) mechanisms, especially in the downstream path. For details on this feature, see Addressing QoS Beyond the Provider Network.
Typical Applications
VoIP router devices can be used to address many different challenges when implementing an IP-based voice system. Two of the most common use cases are described below.
LAN/WAN QoS & Router
The SmartNode VoIP Router is a high-quality, enterprise-class solution that offers All-IP network access with QoS voice and wire-speed traffic shaping. Providing dual 10/100 Ethernet ports, the SmartNode device connects your phones and computer hosts to your LAN with VLAN tagging, DHCP server/client, and firewall/ACL services. Employing PPPoE and IPSEC VPN with DES, 3DES, and AES strong encryption, the SmartNode carries all your voice and data streams to the WAN over a single, secure network connection.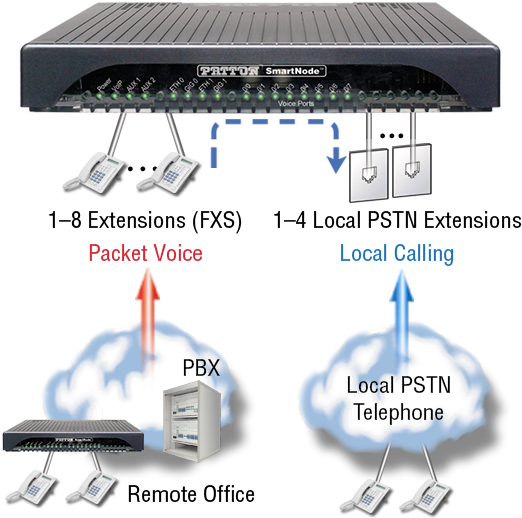 Local PSTN + Packet Voice
Using Patton's SmartNode VoIP gateway routers with FXS & FXO ports provides seamless access to remote packet-voice and local PSTN telephony. Using powerful call-switching technology, distinctive ring, and caller-ID, a single handset can reach the right phone service at any time. With Patton's ClearConnect™ fail-over protection your phone call is sure to be completed. Network health-monitoring and IP telephony switching ensures a clear call-even if the IP network is down.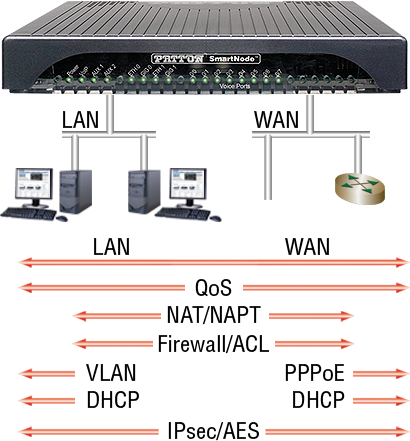 Related Terminology
Short Glossary of Related Acronyms
VoIP
- Voice over IP
SIP
- Session Initiation Protocol
IP
- Internet Protocol
TDM
- Time Division Multiplexing
PRI
- Primary Rate Interface
ISDN
- Integrated Services Digital Network
PSTN
- Public Switched Telephone Network
ITSP
- Internet Telephony Service Provider
SRTP
- Secure Real-time Transport Protocol
TLS
- Transport Layer Security
PDU
- Protocol Data Unit
RTP
- Real time Protocol
LAN
- Local Area Network
WAN
- Wide Area Network
QoS
- Quality of Service