There are several types of media gateways to address the differing requirements of various network applications. Considerations include the type of legacy technology (ISDN or POTS), number of concurrent calls you require, and any added features desired (WAN optimization, downstream QoS, SIP TLS, SRTP, stateful firewall, auto-provisioning, and so on.)
Trunking Media Gateway
A trunking gateway connects a large number of phone lines to a SIP trunk.
The
SmartNode SN4970A PRI VoIP Gateway
provides 1 or 4 T1/E1/PRI interfaces to support up to 120 simultaneous phone or fax calls. This gateway offers Enterprises a cost-effective solution to IP-enable legacy PBX systems.

PBX Gateway
A PBX gateway interconnects a legacy PBX with an IP service provider network and/or an enterprise IP local area network (LAN).
The
SmartNode SN4170 PBX Media Gateway
is designed to address the PRI-SIP Gateway requirements of small and medium-sized enterprises. This PBX gateway provides a cost-effective way to bridge PBX systems on multiple sites or connect them to a public Internet telephony service.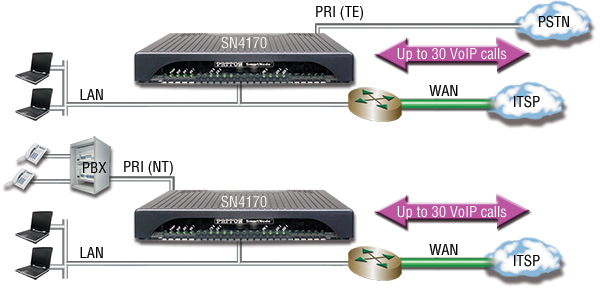 Business Media Gateway
A business media gateway is specifically designed to enhance a business phone system by IP-enabling the existing business phone equipment.
The
SmartNode 5570 enterprise session border controller (eSBC) and router
is a highly-flexible business media gateway that provides a bridge from a wide range of IP-PBX products to a SIP trunk service provider. Built-in Security features such as SIP TLS, SRTP, Stateful Firewall and secure provisioning, it protects the LAN networks from fraud strikes out of the Internet.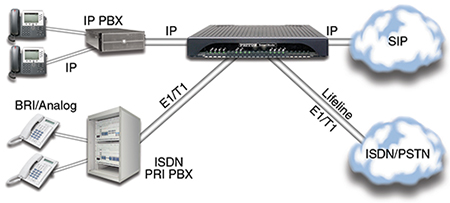 Interconnect Media Gateway
Used in carrier and service-provider networks, in the core or on the edge, the interconnect media gateway does just what it says: interconnects a legacy SS7 carrier network with a modern IP network.
The
SmartNode SN10200 Edge Media Gateway
is an interconnect media gateway that interconnects traditional public switched telephone network (PSTN)--using time-division multiplexing (TDM) with SS7 SigTran protocol signaling--and emerging SIP-over-IP telephony networks. Positioned at the network core or edge, SmartNode SS7 media gateway enables service providers to preserve the quality and reliability of TDM networks with SS7 signaling while transitioning to advanced IP telephony.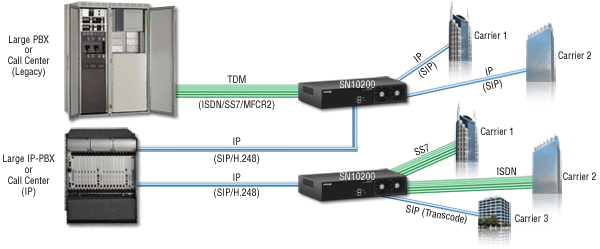 How to Choose the Best Media Gateway
Look for the following capabilities when selecting a VoIP media gateway for your busines:
Interoperability: seamless integration with TDM PBXs and PSTN providers
Features: support for such advanced features as SIP registrar, SIP TLS/SRTP, and stateful firewall.
FAX: Full support for internet fax
Protocols: Seamless migration from TDM to SIP with complete selection of CODECS
Quality: Patton products are designed, developed, and manufactured in the USA.