A VoIP Gateway can support numerous use cases (application scenarios) to enable IP telephony implementations. A media gateway may provide several types of bi-directional conversion, including SIP-to-TDM and TDM-to-SIP. Some high-end models may even provide such session border controller (SBC) functions as transcoding, security firewall, failover, and others.
Typical Applications
VoIP media gateways can be used to address many different challenges when implementing an IP-based voice system. Three of the most common use cases are summarized below.
Legacy TDM-to-IP/SIP
PSTN (T1/E1/PRI) to All-IP Voice System
The primary driver for TDM-to-SIP deployment is known as "toll bypass" which reduces a company's operating costs by avoiding the expensive tolls levied by a public switched telephone network (PSTN). Instead of a Telco trunk, the SmartNode gateway connects a legacy business phone system to a much lower-cost SIP trunk, delivered by an Internet telephony service provider (ITSP).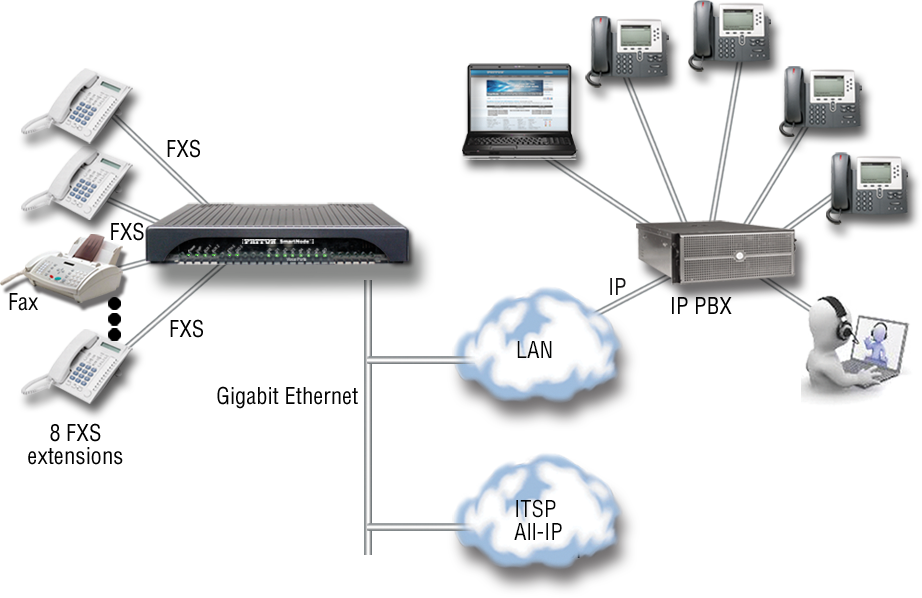 VoIP Provider to Legacy PBX
ITSP or cloud/hosted/virtualized SIP trunking service to Analog POTS or Digital ISDN PBX.
A VoIP gateway can connect a state-of-the-art All-IP communications system (on-premise IP PBX or cloud/hosted/virtualized IP PBX) to a legacy PTSN trunk. You can upgrade a legacy business phone system using an IP media gateway so it can connect to an ITSP over a SIP trunk. SIP trunks are much less costly than expensive toll-based legacy T1 lines.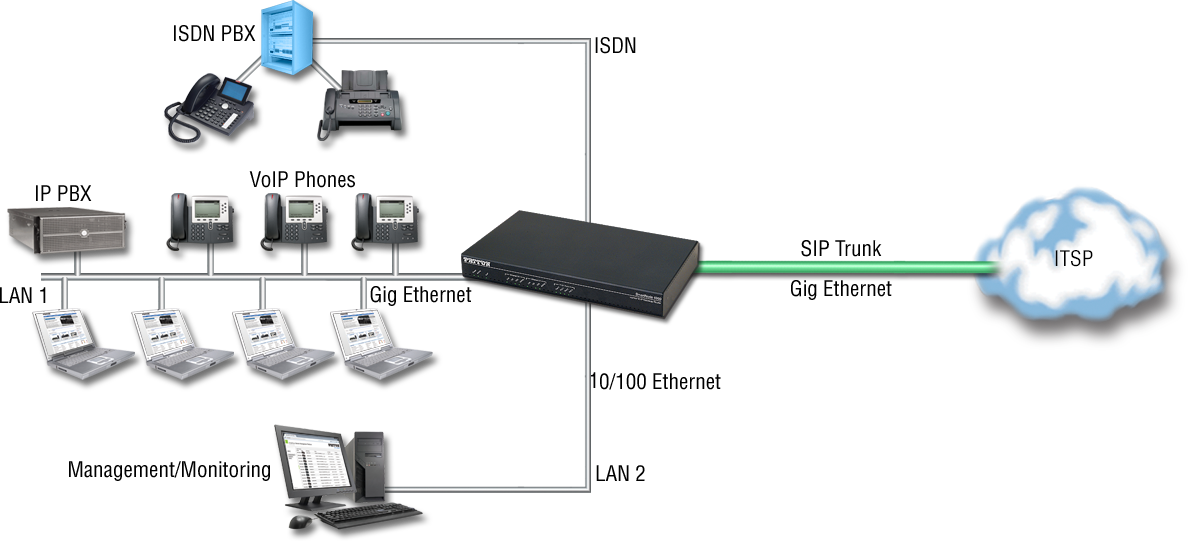 Migration from Legacy to IP PBX
Going the other way round, in a SIP-to-TDM deployment, the gateway connects a modern SIP communications system with a T1/E1/PRI service provided by a legacy carrier. Keep the existing business phone system up-and-running while transitioning to a new IP based phone system.

VoIP Gateway Terminology
Short Glossary of Related Acronyms
VoIP - Voice over IP
SIP - Session Initiation Protocol
IP - Internet Protocol
TDM - Time Division Multiplexing
PRI - Primary Rate Interface
ISDN - Integrated Services Digital Network
PSTN - Public Switched Telephone Network
ITSP - Internet Telephony Service Provider
FXS - Foreign eXchange Subscriber interface
FXO - Foreign eXchange Office interface


Common Synonyms
IP Media gateway
SIP gateway
Voice gateway
TDM gateway
PSTN gateway
PRI gateway
ISDN gateway
Digital Telephony gateway
FXO Gateway
FXS Gateway
Enterprise Gateway
SME Gateway
Digital Telephony Gateway
Analog Telephone Adapter (ATA)