Features


Instant ISDN to VoIP Connectivity—Provides one powered So bus for up to 8 terminals or a PBX. Simultaneously converts 2 voice and fax calls to VoIP.
Transparent Telephony Features—Preserves ISDN features like caller ID and name (CLIP/CLIR), call transfer, hold, waiting, charging information (AOC) and much more.
Outstanding Interoperability—Interoperable for voice and fax calls with a wide variety of ISDN terminals, PBXs, as well as SIP and H.323 soft switches and application servers.
Full SIP and T.38 support—Complete range of industry standard signaling protocols supported: SIPv2, H.323v4, ISDN, DSS1, T.38, fax and modem bypass, DTMF relay.
Integrated Management and Provisioning—HTTP GUI for easy end-user setup, fully automated provisioning system and SNMP management for mass deployment.
Overview
The Smart-DTA enables integration of ISDN network users into a local VoIP phone service, or extends an ISDN line of a PBX to a remote site over IP. It offers a simple end-user configuration interface and connects both to a PBX in point-to-point mode and an So bus in point-multipoint mode.
Unlike most other products on the market, Patton's intelligent call routing technology does not only offer simple ISDN to VoIP, but also advanced features like number plan adaptations, mappings between ISDN and SIP/H.323, manipulation of call properties through regular expressions, routing calls based on time-of-day or bearer capability criteria and much more.
Providing power to the ISDN line, the S-DTA eliminates the need for an external power supply to provide power to the terminals. Gateway functions use standard CODECs such as G.723, G.729, and T.38 fax as well as industry standard SIP and H.323 signaling protocols to ensure seamless connection and compatibility for all voice services. Quality of service (QoS) features complete the offering with advanced voice prioritization and traffic management including VLAN tagging, 802.1P/Q and DSCP.
Applications
Network Integration
Patton's Smart Digital Telephony Adapter provides seamless access to Internet telephony services for ISDN terminals and PBXs. The S-DTA connects to any LAN or broadband access provider via modem.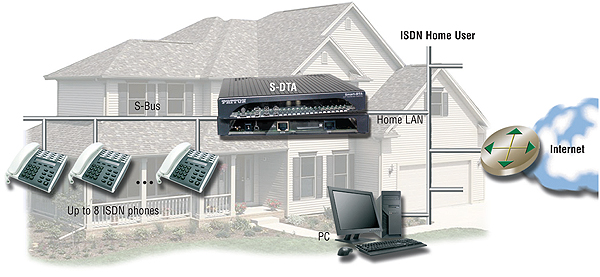 Ordering

Sorry!
Ordering information for this product is not publicly available at this time.
Please accept our apology as we regret any inconvenience to you.

For more information
about the availability of this product and/or alternative solutions,
please contact Patton's Product Management team at
sales@patton.com or +1 301 975 1000

SmartNode™ Awards