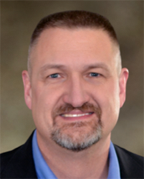 Steve Schrader | Sr. Vice President of Operations


Steve Schrader joined Patton Electronics in 1996 and is responsible for Gaithersburg Operations including Supply Chain, Logistics, Production and Manufacturing Engineering. In addition, Steve is the ISO Management Rep and Lead Internal Auditor. Steve is also actively involved teaching various corporate training courses focused on Lean principles and Continual Improvement and leading continual improvement efforts.

Steve has over 25 years of experience in the Electronics Manufacturing field. Prior to joining Patton, Steve held Management and/or Engineering positions at Hughes Network Systems, Electronic Instrumentation and Technology (EIT, Inc.), BF Goodrich Aerospace (J.E.T. Electronics Division) and Advanced Navigation, Inc.

Steve did his undergraduate work at Bucknell University in Lewisburg, PA where he earned a BS in Electrical Engineering and a BA in Economics in 1987 and later earned a Master of Arts in Apologetics from Southern Evangelical Seminary in Charlotte, NC.

Steve is a graduate of the Maryland World Class Consortiumís Lean Leadership Training in 2006 and expects to complete the Lean Facilitator training in May 2014. Steve also earned certification as a RABQSA and IRCA certified ISO 9001 Lead Auditor in 2008 and completed the APICS Certified Supply Chain Professional course in 2013.

Steve lives in Mt. Airy, MD with his wife Diane and their granddaughter Alyssa. In his free time, he enjoys spending time with his family, reading, and studying worldviews.