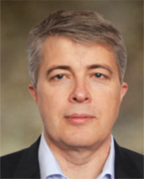 Martin Svozil | Vice President International Development

Mr. Svozil first joined Patton in 2002 as Director of Business Development for Central and Eastern Europe (CEE). Today, as VP International Development, he manages revenue, budget, profit and business development in CEE, Middle East Africa (MEA) and Asia-Pacific (APAC). Martin works in cooperation with regional directors to build relational networks of business partners that provide sales, marketing, and technical services to key accounts, sales channels, and technology partners. Martin creates and leads international cross-functional teams to establish self-sustaining regional operations and sub-regional branches.

Martin serves as President and CEO as well as Chairman of the Board for Patton Hungary Zrt. He holds a B.S. in Cybernetics from Brno University of Technology.