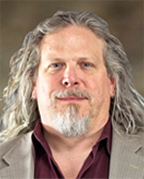 Buddy Oliver | Vice President of Business Development
Harry S. Oliver III (Buddy) joined Patton Electronics in 2017 as Vice President of Business Development. In that role, he is responsible for developing Patton's connectivity business including the expansion of the FiberPlex brand into Patton's global channel. He is additionally tasked with promoting the full line of Patton standard products into US Defense, Intelligence and Civilian Government markets. Buddy works with Engineering and Product Management to initiate new product development efforts and serves as a technical expert on fiber optic related technology.

With over 30 years of experience in the Electronic Equipment Manufacturing industry, Buddy has performed just about every job in the manufacturing process – working on the line, bidding contracts, ERP development, software and hardware design, product development, marketing, channel management and business development. The lion's share of that experience has been with the FiberPlex brand of mission-critical fiber optic connectivity products. He currently serves as an advisor on the AES Technical Committee on Fiber Optics for Audio.

Buddy also serves as President and CEO of FiberPlex Technologies, an Intellectual Property holding company. He is happily married to his college sweetheart and is the father of two children. For creative outlet, he leads a Jazz quintet playing upright and electric bass and enjoys composing and arranging.