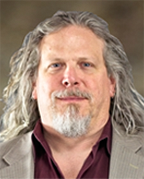 Buddy Oliver | Vice President of Product Management
Harry S. Oliver III (Buddy) joined Patton Electronics in 2017 as part of Patton's ingestion of the FiberPlex brand. As Vice President of Product Management, he leads a team of product managers and FAEs in support of Patton extensive product line. Buddy drive the vision of new product developments and is responsible for the product map at Patton Electronics.

With over 30 years of experience in the Electronic Equipment Manufacturing industry, Buddy has performed just about every job in the manufacturing process – working on the line, bidding contracts, ERP development, software and hardware design, product development, marketing, channel management and business development. The lion's share of that experience has been with the FiberPlex brand of mission-critical fiber optic connectivity products. He currently serves as an advisor on the AES Technical Committee on Fiber Optics for Audio.

Buddy also serves as President and CEO of FiberPlex Technologies, an Intellectual Property holding company, and is a founder of a non-profit which supports holistic wellness for young adults fighting cancer - the BoStrong Foundation. He is happily married to his college sweetheart and is the father of two children. For creative outlet, he leads a Jazz quintet playing upright and electric bass and enjoys composing and arranging.