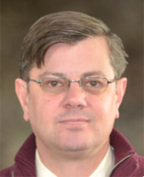 Burton A. Patton | Executive Vice President


Burton A. Patton (Burt) is co-Founder and Executive Vice President of Patton Electronics Company. He is responsible for Patton's global sales, technical services, and marketing teams. Burt leads all corporate communication initiatives, making Patton's capabilities, products, and services known throughout the global marketplace. He is responsible for generating revenue, profit and growth for the organization, leveraging Patton's wide range of network-access products and services for carriers and enterprises. Burt is involved in key management decisions and plays an active role in strategic and business planning for the company.

With over 30 years experience in direct and channels sales, product management, corporate advertising, and business development, Burt is known inside and outside the company for his devotion to building lasting relationships with customers, partners, and industry peers. Burt holds a Bachelor of Science in Marketing from the University of Maryland. He is a member of the Patton Electronics Company Board of Directors.