Features

High-Density 96/120 Port RAS—Lowest-cost dial-up WAN access system available
Dynamic Modem/Digital Support—All modems support V.110, V.92, V.44, V.90, K56Flex, V.34+ or digital ISDN connections
Hot-Swap Dual-Redundant Power Supplies—Supports two AC (115VAC or 230VAC), two DC, or a mix of AC (115VAC or 230VAC) and DC power supply modules
Standard Dual 10/100 Ethernet Ports—Flexible integration options for your high performance network
Web-Based—An embedded HTTP server provides complete configuration and control using standard web browsers
Made in the USA — This Patton equipment is designed by Patton engineers and built in our Gaithersburg, Maryland facility. Patton's American-made manufacturing process delivers high-quality networking solutions with reliability you can trust.
Overview
The Patton DialFire™ Model 3120 Remote Access Server supports up to 120 digital ISDN or analog (V.110, V.92, V.90, K56Flex, V.34, etc.) modem connections in a single 1U high (1.75 in./4.45 cm) rack-mountable chassis. The Model 3120 is the highest density, lowest profile remote access server available anywhere. With its dual-redundant hot-swappable AC or DC power supplies, the 3120 RAS protects against single points-of-failure. It has two 10/100-Mbps Ethernet ports for load sharing and traffic balancing.
Removable dual-redundant power standard—Supports two AC (115VAC or 230VAC), two DC, or a mix of AC (115VAC or 230VAC) and DC power supply modules
Dual 10/100 Ethernet Ports—Flexible integration options for your high-performance network
SNMP/HTTP management—Embedded HTTP server provides complete configuration and control using your web browser
Quad T1/E1 ports for 120 RAS or uplink services—Terminate any combination of 120 modems/ISDN connections, or expand into remote locations and use the 3120 as a complete PoP solution
Applications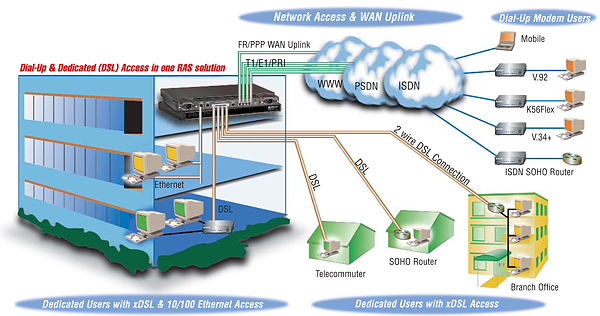 Ordering
#
Model #
Description
Availability
1
3120/120B/R-115
REMOTE/LAN ACCESS, 120 call, Redundant 115VAC PS
General Availability

Accessories

2
3120/120B/R-230
REMOTE/LAN ACCESS, 120 call, Redundant 230VAC PS
General Availability

Accessories

3
3120/120B/R-48
REMOTE/LAN ACCESS, 120 call, Redundant 48VDC PS
General Availability

Accessories

4
3120/30B/R-115
Remote/LAN Access Server 30 call, Redundant 115VAC PS
General Availability

Accessories

5
3120/30B/R-230
Remote/LAN Access Server 30 call, Redundant 230VAC PS
General Availability

Accessories

6
3120/60B/R-115
REMOTE/LAN ACCESS, 60 call, Redundant 115VAC PS
General Availability

Accessories

7
3120/60B/R-230
REMOTE/LAN ACCESS, 60 call, Redundant 230VAC PS
General Availability

Accessories

8
3120/96B/R-115
REMOTE/LAN ACCESS, 96 call, Redundant 115VAC PS
General Availability

Accessories

9
3120/96B/R-48
96 PORT RAS, 96 call, Redundant 48VDC PS
General Availability

Accessories