Overview
The Model 1001MP16 Universal Mounting Panel offers the ability to rack-mount any of Patton's MicroPak products side-by-side. Products that are compatible with the 1001MP16 include Device servers, Media converters, Ethernet bridges, Fiber modems, Interface converters, and many more!
The sturdy 2U design of the 1001MP16 enables quick and hassle-free installation into any standard 19-inch rack. The 1001MP16's unique bracket-and-groove mounting system enables Patton MicroPak cases to be mounted securely into the panel. Dry-erase labels and individually numbered ports are provided for easy circuit/port identification.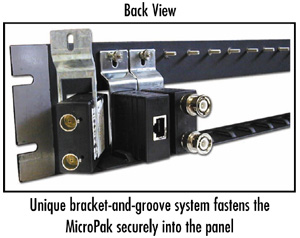 The Model 1001MP16 provides an economical method for converting your favorite Patton standalone MicroPak products into a customized rack-mounted solution.


Compatible MicroPak Products

Media
Converters

2300 Series
2310 Series
2311 Series
2312 Series

Fiber
Modems

Interface
Converters

2041 Series
2042 Series
2043 Series
2086 Series
2090 Series

Serial
Modems

1007 Series
1017 Series
1052 Series

Device
Servers

Modem
Eliminators

Ethernet
Bridges

Serial/Parallel
Converters

Baluns

Surge
Protectors

CSU/DSUs


Data
Taps

and many more...