Overview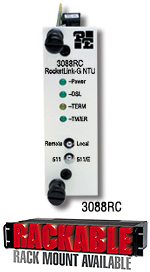 The Model 3088 G.SHDSL RocketLink-G NTU is the perfect choice for users or service providers who need high-speed dedicated network connections and know what interface they want. Based on the ITU and ETSI G.SHDSL G.991.2 standard, the RocketLink-G NTUs enable providers to extend their reach-and-range by delivering rate-adaptive nx64 symmetrical speeds from 192 kbps to 4.6 Mbps—all over a single pair of wires. The Model 3088 likewise supports G.Handshaking per ITU G.994.1 for automatic rate adaptation to existing line conditions.
The RocketLink-G uses Patton's NetLink Plug 'n' Play feature to remove any questions of configuration when used as the CPE solution with any Patton CO solution. Just set the units to their default mode and plug them in. The remote modem configures automatically and the link is up and running in seconds. With support for remote console, future configuration changes and operating statistics are available via the out of band EOC channel. Use remote console when deploying RocketLink-G NTUs either back to back or with a ForeFront system. A perfect complement to any ForeFront AIS solution.
The Model 3088 is available with V.35, X.21, T1/E1 and 10/100Base-T Ethernet interfaces. The V.35 interface is presented on an female DB-25 connector. The X.21 is presented on a female DB-15 and is DTE/DCE selectable. The T1/E1 interface is presented on an RJ-48C and optional dual BNC connector. It operates as a channelized interface allowing for fractional T1/E1 configurations (G.703/G.704).
Applications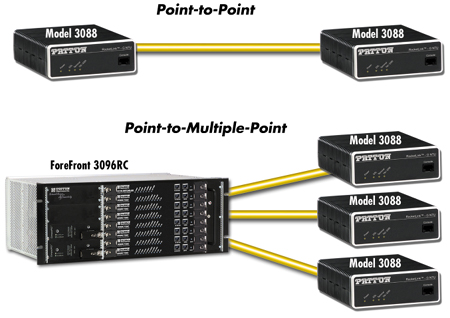 The Model 3088 RocketLink-G NTU excels in manageability even in point-to-point configurations.
NetLink Plug-and-play automatically configures a remote unit based on parameters stored in the local unit.
Secure console lets an operator log into a unit to manage and configure it locally.
Remote console makes configuration and management of a remote unit easy over an out-of-band channel.
RocketLink-G NTUs are software upgradeable from the console port.
When attached to a ForeFront AIS, the RocketLink-G can be managed via an SNMP proxy.