The EnviroNET™ Voice-over-IP Gateways, Model ET4500 series, reaches into rugged environments with IP-telephone circuit conversion for toll quality VoIP services anywhere you want. The ET4500 series utilizes advanced adaptive voice/data traffic management and shaping with the addition of Patton's patent-pending DownStreamQoS™ to offer unparalleled performance of voice quality services. The ET4500 series use standard CODECs such as G.723 and G.729 as well as industry standard SIP, H.323 and MGCP/IUA to ensure seamless connections and compatibility for all voice services.
Patton's EnviroNET™ Voice-over-IP Gateways are housed in a NEMA 4 enclosure and operate in extreme temperatures, ranging from –40 to 85°C. EnviroNET Voice-over-IP Gateways are the ideal solution for providing VoIP services to locations where harsh environmental conditions such as heating, cooling, dust, and moisture cannot be controlled.
Typical applications for Patton's EnviroNET™ Voice-Over-IP Gatweays include providing VoIP capabilities to public and private outdoor phones, industrial automation, and curbside services.
Applications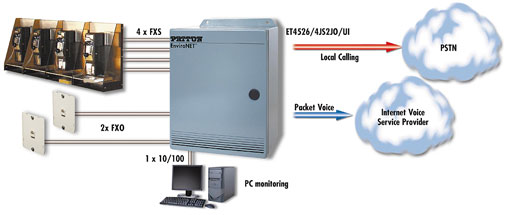 Extending Patton's EnviroNET Voice-over-IP Gateway routers into exposed environments for seamless access between remote packet-voice and local PSTN telephony. Using ToIP call switching, distinctive ring, and Caller-ID a single handset can now access the right service at any time. With Patton's ClearConnect™ fail-over protection a phone call will be completed. Network health monitoring and ToIP switching ensures a clear call even if the IP network is down. Patton's EnviroNET protective enclosures give service providers unlimited installation locations.
| Model # | Temperature | Case Rating | Voice Connectivity | Ethernet Connectivity |
| --- | --- | --- | --- | --- |
| ET452X/JS/UI | -40 to 85°C | NEMA 4 | 2–6 FXS | 2 x 10/100 |
| EH452X/JS/UI | -0 to 50 °C | NEMA 4 | 2–6 FXS | 2 x 10/100 |
| ET452X/JO/UI | -40 to 85°C | NEMA 4 | 2–4 FXO | 2 x 10/100 |
| EH452X/JO/UI | -0 to 50 °C | NEMA 4 | 2–4 FXO | 2 x 10/100 |
| ET4524/2JS2JO/UI | -40 to 85°C | NEMA 4 | 2 FXS/ 2 FXO | 2 x 10/100 |
| EH4524/2JS2JO/UI | -0 to 50 °C | NEMA 4 | 2 FXS/ 2 FXO | 2 x 10/100 |
| ET4526/4JS2JO/UI | -40 to 85°C | NEMA 4 | 4 FXS/ 2 FXO | 2 x 10/100 |
| EH4526/4JS2JO/UI | -0 to 50 °C | NEMA 4 | 4 FXS/ 2 FXO | 2 x 10/100 |
| ET4528/4JS4JO/UI | -40 to 85°C | NEMA 4 | 4 FXS/ 4 FXO | 2 x 10/100 |
| EH4528/4JS4JO/UI | -0 to 50 °C | NEMA 4 | 4 FXS/ 4 FXO | 2 x 10/100 |
| ET4552/2BIS/EUI | -40 to 85°C | NEMA 4 | 2 ISDN (BRI) | 1 x 10/100; 4 x 10/100 Switch |