Overview
The ForeFront RAS provides the ILEC/IOC, CLEC and PTT with a powerful and scalable access solution.
Building upon Patton's award-winning 2900 series of remote access servers, the ForeFront RAS offers increased port density, enhanced performance, and expanded service capabilities. Scaling from 96/120 ports per blade, a single chassis can support up to 1,560 calls. Through its unique distributed processing architecture, each blade operates independently of other system cards for maximum uptime. With support for enhanced data systems such as remote access services, the ForeFront RAS supports future multi-service access capabilities such as VoIP and DSL.
Designed to ensure no single point-of-failure for maximum uptime and high availability, the ForeFront RAS's modular platform incorporates redundant AC or DC power supplies and hot-swappable/field-upgradable network resource cards providing a versatile, scalable, and complete remote access solution.™
PMC expansion port—Network expansion options enable the 3125RC to offer new revenue opportunities

Dual 10/100 Ethernet Ports—Allow flexible integration options for your high-performance network. Each 10/100 Ethernet provides a primary and secondary port

SNMP/HTTP management—Embedded HTTP server provides complete configuration and control using a web browser, as well as standard tools

Quad T1/E1 ports for 120 ports of RAS or uplink services—Terminate any combination of modems/ ISDN connections, or expand into remote locations and use the 3120 as a complete PoP solution
Applications
Corporate site/remote office/POP
Patton designed the ForeFront RAS to meet the infrastructure requirements of service providers and corporations who rely on multi-service access servers for their networks. Employees working in remote offices; mobile users; and telecommuters access the network from various line types for critical data and applications required to perform their daily tasks. The ForeFront RAS uses the latest DSP technology to terminate both analog (V.92, V.90, K56Flex, V.34+) and digital ISDN modem calls with the future ability to augment multi-service capabilities.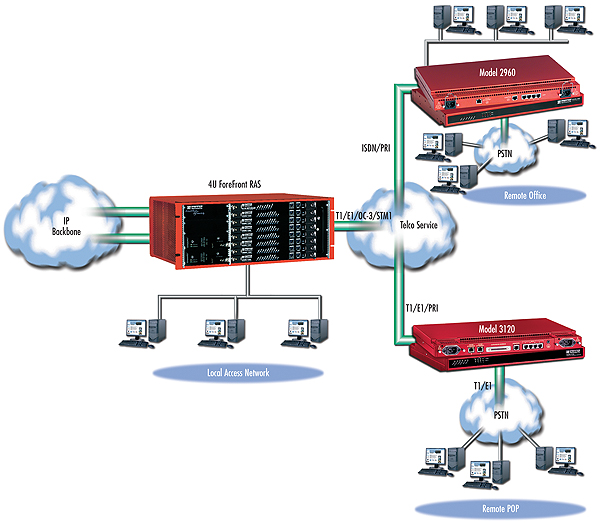 Dedicated & Dial-up Access
Designed to ensure maximum uptime and high availability, the ForeFront RAS eliminates any single point-of-failure with standard redundant systems.
Hot swappable AC or DC power supplies
Integrated cooling
Fully redundant systems
Expansion capabilities
Field upgradability