Features

Convert Analog or Digital to IP—Convert your Analog (POTS) or Digital (ISDN) circuits to IP for toll quality VoIP services
50 Mbps, Full-Duplex Operation Over Twisted-Pair—Reduces the cost and hassles of new installations. Utilizes installed voice-grade twisted pairs to eliminate the expense of fiber or Cat5e cabling.
NEMA 3 Compliant, Ruggedized Steel Enclosure—Protection against elements such as dirt, rain, sleet, snow, dust, and that will be undamaged by the external formation of ice on the enclosure.
Plug and Play—No configuration or cable hassles during installation with auto-sensing 10/100, full or half duplex, and auto MDI-X.
Extended Temperature 0 to 50ºC—Operates in environments that do not have heating or cooling options.
Flexible installation—Wall or DIN rail mountable.
Overview
The Model EHA2172 simplifies network extension by utilizing twisted-pair infrastructure previously used for legacy systems such as serial circult TTL, RS-232 and RS-422/485, phone lines, or even alarm circuits to be used for extending or connecting Ethernet devices together. With a pair of EHA2172s (or combined with a Patton 2172 or 2172R), a user can extend network connections up to 5,500 feet. Reusing already existing infrastructure for Ethernet Networking eliminates purchasing expensive fiber and Cat5E or greater cabling. Most important, it completely eliminates the hassle, expense, and downtime of cable installations. The EHA2172 operates in rugged environments and is NEMA3 certified. The EHA2172's steel case can be conveniently mounted on a wall or pole.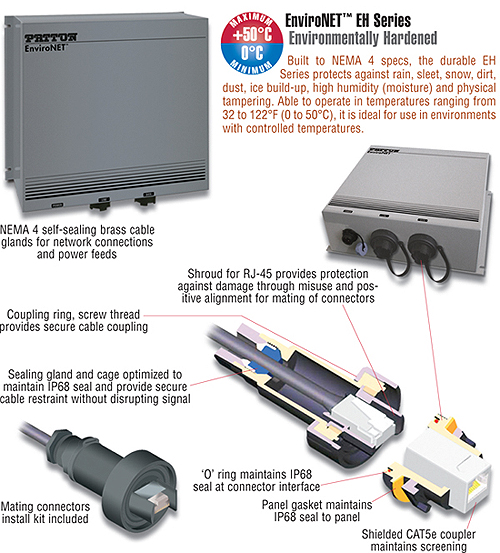 Applications

The Model EHA2172 auto-rate Ethernet Extenders are ideal for delivering network connections to remote offices and Ethernet enabled devices that are beyond the 328-foot (100-meter) distance limit of Ethernet. The 50 Mbps throughput eliminates bandwidth concerns previously experienced with other copper wired transmission technologies. By utilizing existing voice grade copper pairs the expense and hassle of installing low capacitance or fiber cable is no longer required.
Ordering

Sorry!
Ordering information for this product is not publicly available at this time.
Please accept our apology as we regret any inconvenience to you.

For more information
about the availability of this product and/or alternative solutions,
please contact Patton's Product Management team at
sales@patton.com or +1 301 975 1000