Features


Use 120-ohm twisted-pair wiring with unbalanced coaxial equipment.
Uses 1.6/5.6 coaxial connectors.
No more buying expensive and space-hungry hardware for patching and distributing G.703 connections.
Low-cost model supports rates of 2 Mbps (faster versions are available for rates up to 155 Mbps).
Low insertion loss, fully meets ITU-T (CTR12) G.703 standards.
Standard twisted-pair terminations.
Enclosed in flame retardant housings.
Baluns are 100% tested for reliability and durability.
Baluns come in a variety of connectors and packaging.
Customized versions available upon request.
Made in the USA — This Patton equipment is designed by Patton engineers and built in our Gaithersburg, Maryland facility. Patton's American-made manufacturing process delivers high-quality networking solutions with reliability you can trust.
Overview
Baluns are miniature adapters for connecting mixed cable types or devices with mis-matched interfaces. They enable carrier and large-enterprise customers to standardize on twisted-pair wiring, even though some equipment may have unique E1 terminations (see diagrams below).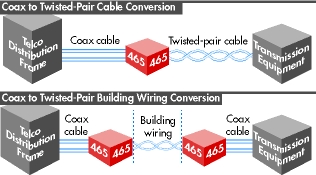 The Model 465 has the 1.6/5.6 coax connectors used extensively in telephone exchange sites. The balun has two interfaces, so both the TX and RX coax signals can be carried over a single length of twisted-pair cabling (which is much less costly than any kind of coaxial cable).
Ordering

Sorry!
Ordering information for this product is not publicly available at this time.
Please accept our apology as we regret any inconvenience to you.

For more information
about the availability of this product and/or alternative solutions,
please contact Patton's Product Management team at
sales@patton.com or +1 301 975 1000