Patton's Model 1068 VDSL Modems provide up to 16 Mbps of high speed Ethernet and voice services between LANs or other network-enabled devices over a single twisted-pair. The Model 1068 is the only variable-rate asymmetrical/symmetrical standalone modem solution available today. The ability to select various asymmetrical and symmetrical line rates enables the Model 1068 to satisfy a broad range of applications. The Model 1068DV's line sharing capabilities allow users to download files from the Internet, surf the WWW, and answer e-mail messages while talking on the phone or faxing documents.
The Patton Model 1068 is easy to configure and install. When configuration of the Model 1068 is necessary, an easily accessible DIP switch is located on the bottom side of the unit. Once configured, simply plug the Ethernet device into the Ethernet port, the voice device into the POTS/ISDN port, and connect power.
The Model 1068 is an effective solution for providing both data and voice services over an existing copper infrastructure and eliminating the expense of fiber cables. If you want to take your network and voice connections farther and faster Patton's VDSL modems are for you!
Just plug, power, and play!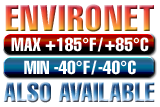 Applications