Features

Extend Ethernet connections up to 1.24 miles (2 km) over multimode fiber
Future-proofs your network
Immune to electromagnetic interference (EMI)
Auto-sensing full or half-duplex Ethernet
LED status indicators
Ultra-miniature package
Simple plug-and-play installation
MDI or MDI-X capable
Made in the USA — This Patton equipment is designed by Patton engineers and built in our Gaithersburg, Maryland facility. Patton's American-made manufacturing process delivers high-quality networking solutions with reliability you can trust.
Overview
Patton's Model 1170M Series FibreLink Ethernet Extenders provide up to 1.24 miles (2 km) of Ethernet extension over readily available multimode fiber. The 1170 series is a proven solution for inter-office LAN extension, connecting remote LANs or other remote network enabled devices.
The Model 1170M modems provide a cost effective plug-and-play solution for 10Base-T or 100Base-TX Ethernet extensions. The Model 1172M offers the added benefit of 10/100 auto-negotiation, making it the perfect choice when when planning future upgrades of 10Base-T networks. All 1170M Ethernet Fiber Modems are ultra-miniature in size and feature a shielded RJ-45 Ethernet jack, choice of ST or SC style fiber optic connections, and MDI/MDI-X switch for quick and easy installation. Built-in auto-sensing capabilities enable full or half-duplex Ethernet operation with no configuration required!
Let Patton's FibreLink Ethernet Fiber Modems extend your reach with the speed and security of fiber!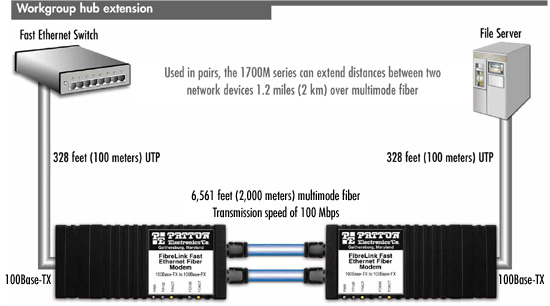 Ordering

Sorry!
Ordering information for this product is not publicly available at this time.
Please accept our apology as we regret any inconvenience to you.

For more information
about the availability of this product and/or alternative solutions,
please contact Patton's Product Management team at
sales@patton.com or +1 301 975 1000