The Problem
With the introduction of NBN, copper-based PSTN and ISDN will phase-out forcing a switch to all-IP services over NBN infrastructure. This means replacement of all legacy phones, fax and PBX hardware with IP devices and communication platforms resulting in complexities such as unplanned costs, service transition challenges, interoperability issues and number porting delays in migration to potential new providers.
The Picture
Before adopting the NBN the enterprise operates a separate voice and data network. When the NBN network is introduced the NBN delivers L2 connectivity over which the provider delivers services. The SmartNode is installed and terminates telephony connection between PBX and telephony service provider and also connects to SIP services over the NBN selectively routing calls across either or both networks. When PSTN is disconnected, the on-premise telephony systems and devices co-exist with the converged VoIP and data services delivered over the NBN including SIP Trunks and/or UCaaS.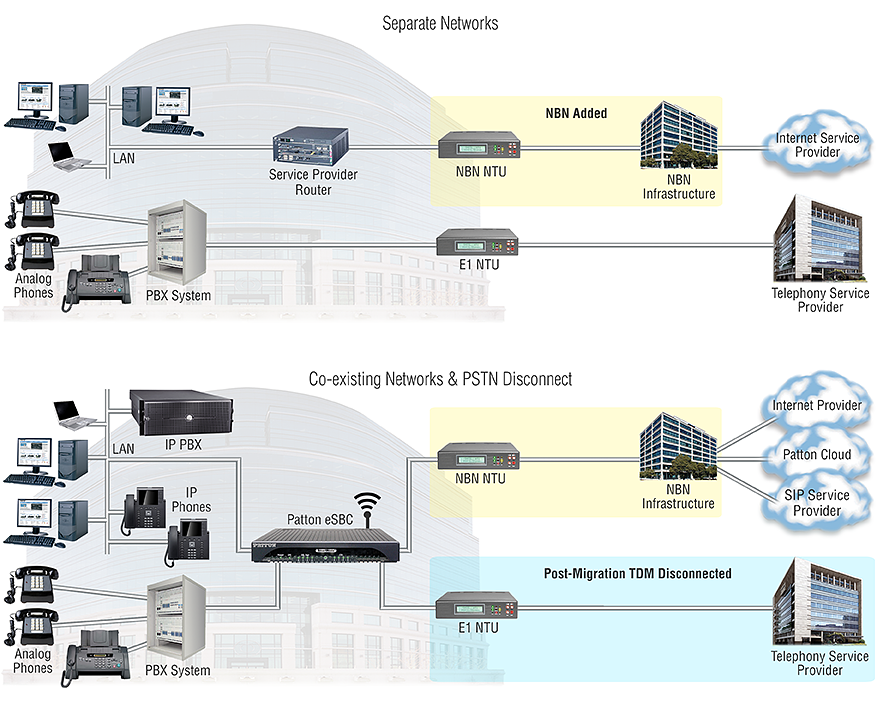 The Solution
Patton's SmartNode enables subscribers in Australia to enjoy uninterrupted services with no change in user experience as they transition to NBN.
SmartNode and Patton Cloud empower service providers to switch, control, manage and troubleshoot services all the way to the customer premise avoiding service disruptions.
These strategies eliminate risks and finger pointing, reduce debugging time, improve customer satisfaction, reduce churn, accelerate adoption of new services and increase higher average revenue per user (ARPU) and profits.
Patton devices deliver service quality and assurance by securing communication, prioritizing voice services and providing fallback strategies even in case of service outages in NBN.
Moreover, the end-user can retain the legacy hardware, move to NBN with much less cost and can upgrade their infrastructure to UC/UCaaS at a later stage without fear of disposing of working hardware.
Service provider gain a competitive advantage and can focus on service delivery while Patton devices facilitate communication between varied legacy customer hardware and future technologies.
How to migrate voice services smoothly over NBN. Get the Guide

The Details
Australia's National Broad Network is government initiative to design, build and operate an open-access broadband network to bridge the digital divide and ensure all Australians have access to fast broadband, at affordable prices, and at least cost. The NBN is the most significant communication infrastructure project in Australia's history costing billions of dollars.

The network has changed the landscape of both voice and data service providers and creates new opportunities for competitive providers to capture market share. However, the migration of voice telephony to all-IP services over the NBN also brings in challenges to providers.

Cost, complexity, interoperability with existing hardware at the customer site, service porting or changing on-premise systems present barriers that can erode profitability. Besides, providers need to address diverse customer networks and existing connectivity.

Providers interested in retaining subscriber base, delivering more services to existing base or capturing new subscribers need to take a phased, customer-friendly approach to service migration and adoption of new IP based telephony/UC services.

Patton SmartNode devices enable competitive providers with easy and smooth migration pathways to transition subscribers to all-IP services over NBN backbone with minimal service disruption, reduced capital expenses and no change in user experience.

While delivering secure and future-proof voice and data services with provision to integrate legacy voice infrastructure, Patton devices provide network demarcation and management of site conditions such as IP bandwidth, number range, dial-plans, routing rules and debugging.

Further packed with features like zero-touch provisioning, configuration wizards, split configuration, floating licenses, call detail record, remote management via Patton Cloud and integration with service provider CRM allow complete control from network operation centers.