The Problem
Achieving large, high-velocity subscriber migration to SIP Trunking with BroadWorks (or BroadCloud) in a profitable way challenges Service Providers to be efficient streamlining and simplifying deployment and management processes. Service Providers need to ensure service quality, security, reliability, manageability, maintainability and interoperability without breaking the budget.
The Picture
The Patton Cloud provisions, configures and manages devices, services and solutions at the edge or point of service demarcation. It enables proactive management of devices, device licenses and configurations from any device from any location. Debugging tools together with active monitors and event triggers allow Service Providers to secure services and provides a means to proactively alert, troubleshoot, analyze, and optimize devices and the services delivered by and traversing the SmartNode. Cloud based License services empower Service Providers to proactively extend, update and upgrade services delivered to subscribers with just a few clicks.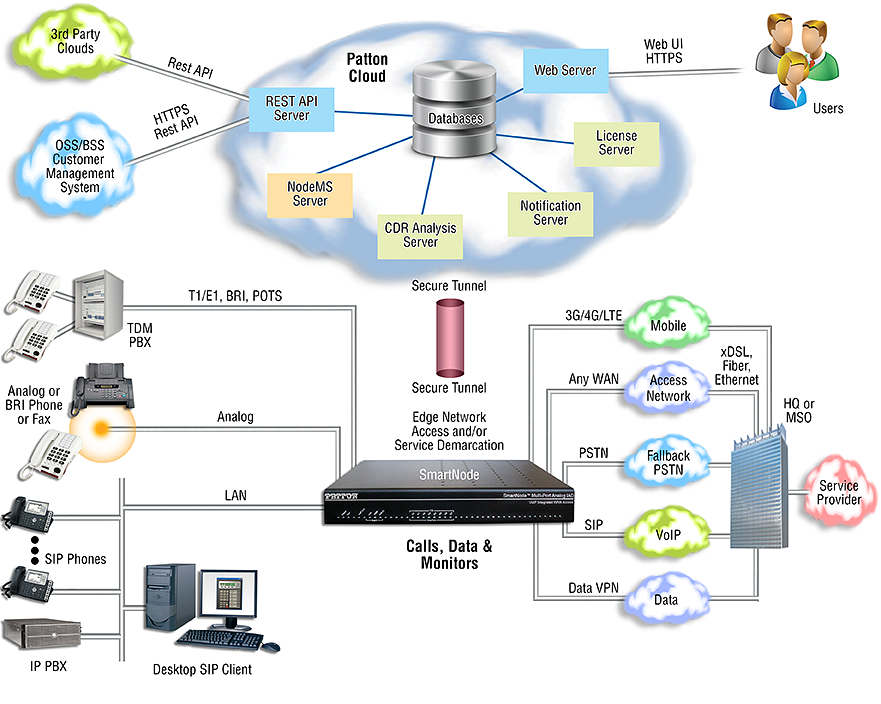 The Solution
The SmartNode solves Interoperability at the edge. It connects to Service Provider SIP Trunks presenting a single and normalized SIP interface, while interoperating seamlessly with on-premise to any legacy analog, TDM or SIP-based communication systems.
Automated re-direction, Patton-Cloud connection and provisioning offers touchless service turn-up and initiation.
The Patton Cloud decreases costs and improves provider profitability by providing a centralized interface to manage, monitor, secure, alert, troubleshoot, analyze, transform, re-purpose and optimize services by leveraging a SmartNode installed on the Customer Premise.
When a SmartNode is connected to the Patton Cloud it provides analytics related to connectivity, networking, QoS and services traversing the WAN and subscribers LAN network. It also provides views of device status, health, call loads and much more.
Service quality is assured by Cloud and QoS feature sets which establish traffic priorities across the network, supports dedicated bandwidth on a per-flow scheduled basis, shapes network traffic to predictable levels, improves or eliminates loss characteristics and reduces network congestion.
Security, reliability and maintenance are managed via in-band or out-of-band remote access which enable configuration, re-configuration, re-provisioning, monitoring, reporting, alerting and troubleshooting.
Services can be scaled, transformed (for Hosted UC or IoT) or re-purposed remotely via remote software upgrades and device license and firmware. You can remotely apply new routing, security or other protocols, add TDM channels, SIP Sessions or NFV/SD WAN support.
TDM failover and Multi-WAN redundancy ensures persistent network, service and cloud connectivity.
Check Out the Patton Cloud Service

The Details
BroadSoft-based SIP Trunking deployments can represent a significant revenue stream for carriers and service providers; it also comes with a magnitude of challenges. Large, high-velocity migrations of subscribers from legacy trunks to SIP Trunks requires good planning, careful partnering and significant cross functional effort, which many providers do not get right the first time.

Service turn-up needs to be easy and efficient with both low CAPEX and OPEX. Service quality, security, reliability, manageability, maintainability and interoperability all need to be ensured.

Interoperability involves edge integration with the subscriber on-premise systems and devices including SIP devices as well as Analog, T1/E1 or ISDN. In many cases, providers need to enable customers to migrate their legacy infrastructure at a controlled pace while ensuring seamless connectivity with extensive SIP and TDM interoperability. Some providers prefer direct trunk replacement directly presenting Analog or ISDN trunks interfaces to SIP Trunk subscribers.

Service Providers need way to efficiently launch, manage and maintain services while limiting investments in infrastructure, manpower and training. They need to be regimented in the services offered to customers, while maintaining a high level of commonality and re-use of network elements including CPE devices.

SIP Trunk service planning need to anticipate migrating subscribers to Hosted services and ability to deliver future value-added services without network re-builds when, for example, IoT service demands are presented.

Patton's SmartNode products, together with the Patton-Cloud deliver powerful, easy and efficient solutions to all of these challenges. Cloud-Powered SmartNodes enable automated-provisioning for touchless service turn-up. They ensure quality, security, reliability, manageability and maintainability through Cloud tool sets. The Patton Cloud allows providers to easily manage, monitor, secure, alert, troubleshoot, analyze and optimize Services. License services ensure interoperability with changes in the subscriber network and devices.