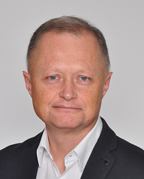 Marjan Torkar | President EMEA and CEO Patton-Inalp Networks, AG
Marjan Torkar joined Patton Electronics Company in January 2019 as President EMEA. In March 2019 Marjan was appointed as CEO of Inalp Networks AG, Patton Electronics' affiliate company based in Bern, Switzerland responsible for sales, marketing and SW development. Marjan's primary responsibility is to oversee and deliver on Inalp performance bringing particular attention to sales, marketing, support and customer satisfaction in EMEA markets. Marjan is focused on growing business and building strong partnerships with regional partners and industry peers in a constant changing and very volatile economy.

Marjan holds an B.Sc. degree in Computer science from University of Ljubljana in Slovenia. He has over 25 years of experience working in the computing and telecommunications industries. Previously, Marjan has held CEO position at Mobik (Wholesale Telecom operator and Fraud Protection SW developer) and several positions within Dialogic Corporation, last one being VP Sales EMEA. He worked across EMEA (Ljubljana/SLO Dubai/UAE, Munich/DE and London/UK).

Marjan lives in Bern, Switzerland. In his free time he spends time with his family and friends, likes outdoor activities, hiking, cycling and skiing, and practices the art of photography.