Overview
Use Patton's Model 2285 universal single-port device server to control, access, inter-connect, and manage RS-485/422/232 devices from any remote location as if you were there. Patton's device servers provide a new level of efficiency and affordability to a variety of application environments including industrial automation, health care, security, transportation, retail, and many others.
With built-in DHCP the Model 2285 automatically obtains an IP address and a subnet mask from the master server. With the IP address identified and the serial port attached, the Model 2285 can pass tranparently pass data end-to-end using Telnet over TCP. Users can access management features over telnet, serial console, or the web. Security features include static key based 3DES data encryption, SSL to provide a secure connection between client and server, HTTPS for secure data transfer over the network, and IP filter, which limits and controls access to the serial device. COM Port Redirector is included with Patton's 2285 enabling users to use their existing COM/TTY-based software, preventing the hassle and expense of investing in additional software.
The Patton Model 2285 provides physical-layer connectivity by a user selectable RS-485/422/232 serial port and 10/100Base-TX Ethernet port. Configure the serial port's data rate, ranging from 75 bps to 230 kbps, and choose from a variety of connector types including DB9 or DB25 male or female.
Easily and cost effectively bring serial devices onto one global or local area network!
Applications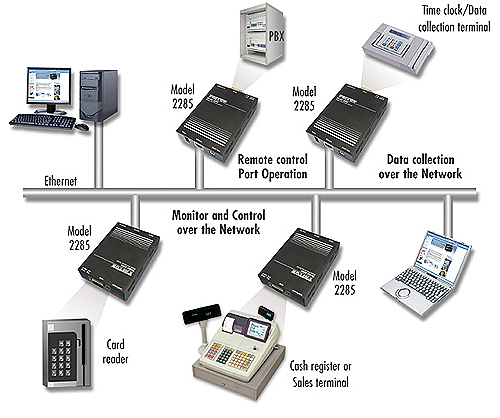 The Patton Model 2285 connects various RS-485/422/232 serial devices to a central location over an Ethernet Local Area Network. The device server enables monitoring, controlling, management, and data collection.
The Model 2285 enhances COM Port Redirection with the addition of encryption. Secure connections between the 2285 and the controller's COM port are implemented with the Serial/IP COM port redirector and OpenSSL Toolkit with an SSL/TLS security option of five ciphers (including 3-DES and AES). This strong encryption meets some of the most stringent security requirements.
The Model 2285 performs Serial Data Tunneling when used in pairs. The 2285's will simulate a direct serial link between two serial devices over an Ethernet connection. Using IP allows the user to extend serial connections across the building or across the world.