Features

Ethernet Extension—Extend 10/100Base-TX Ethernet well beyond its 328-foot (100-meter) limitation over a single unshielded twisted pair (UTP), Cat 5e/6/7 cable.
Operates Over Twisted Pair—Realize fiber-optic speeds without the expense—and hassle—of installing new cables or line-of-sight wireless circuits.
Plug and Play—Set these units up straight out of the box. No configuration is required. Auto-sensing 10/100 Ethernet ports support full or half duplex operation.
Multiple Line Rates Supported—Switch-selectable rate mode options optimize rate and reach for the noise environment, wire gauge/type and length.
Transparent LAN Bridging—Bypass network configuration requirements by transparently passing all higher layer protocols—including 802.1Q VLAN frames (tagged and untagged).
Made in the USA

— This Patton equipment is designed by Patton engineers and built in our Gaithersburg, Maryland facility. Patton's American-made manufacturing process delivers high-quality networking solutions with reliability you can trust.
Overview
Combining data flows from up to four network-enabled devices onto a single twisted pair or coax cable, the Model 1212E can deliver IP traffic up to 1.8 miles (3 km) away—well beyond the standard 328-foot (100-meter) Ethernet distance limitation.
With achievable line rates up to 168 Mbps, the CopperLink 1212E eliminates the bandwidth constraints commonly experienced with other copper-based transmission technologies. The Model 1212E is engineered to re-use existing infrastructure previously employed in legacy applications including alarm circuits, E1/T1 circuits, RS-232, RS-422, RS-485, CCTV and CATV. Many newer cabling standards are also supported, including Cat 5e, Cat 6 and Cat 7.
A built-in 2-port Ethernet switch makes the CopperLink Model 1212E ideal for delivering simultaneous connectivity to more than one IP enabled device such as a laptop, a motion sensor, or even a few high resolution IP video cameras—all over a single twisted-pair!
A single-port version, the CopperLink Model CL1211E (available by special order) is ideal for applications requiring the enhanced security of a single Ethernet port.
Applications
Typical Application: Extending Ethernet over Cat 5+ or UTP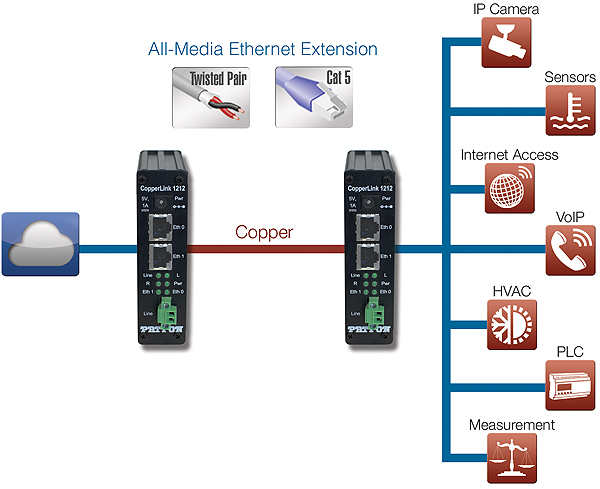 Ordering
#
Model #
Description
Availability
1
CL1211E/EUI-2PK
Extended Temperature CopperLink High Speed Auto Rate Extender Kit (Local and Remote); 1 x 10/100BaseTX; RJ45 Line Connector; 100-240VAC
General Availability

Accessories

2
CL1211E/TB/EUI-2PK
Extended Temperature CopperLink High Speed Auto Rate Extender Kit (Local and Remote); 1 x 10/100BaseTX; Terminal Block Line Connector; 100-240VAC
General Availability

Accessories

3
CL1211E/TB-SKD
Ethernet Extender, PCB Sub Assembly, Terminal Block Line; 1 x 10/100; No Power Supply
General Availability
4
CL1211E-SKD
Ethernet Extender, PCB Sub Assembly, RJ45 Line; 1 x 10/100; No Power Supply
General Availability
5
CL1212E/CC/EUI
Extended Temperature CopperLink High Speed Auto Rate Extender; 2 x 10/100BaseTX; RJ45 Line Connector; Conformal Coated; 100-240VAC
General Availability

Accessories

6
CL1212E/CC/EUI-2PK
Extended Temperature CopperLink High Speed Auto Rate Extender Kit; 2 x 10/100BaseTX; RJ45 Line Connector; Conformal Coated; 100-240VAC
Available to Order; Coming Soon

Accessories

7
CL1212E/EUI
Extended Temperature CopperLink High Speed Auto Rate Extender; 2 x 10/100BaseTX; RJ45 Line Connector; 100-240VAC
General Availability

Accessories

8
CL1212E/EUI-2PK
Extended Temperature CopperLink High Speed Auto Rate Extender Kit (Local and Remote); 2 x 10/100BaseTX; RJ45 Line Connector; 100-240VAC
General Availability

Accessories

9
CL1212E/TB/CC/EUI
Extended Temperature CopperLink High Speed Auto Rate Extender; 2 x 10/100BaseTX; Terminal Block Line Connector; Conformal Coated; 100-240VAC
General Availability

Accessories

10
CL1212E/TB/EUI
Extended Temperature CopperLink High Speed Auto Rate Extender; 2 x 10/100BaseTX; Terminal Block Line Connector; 100-240VAC
Available to Order; Coming Soon

Accessories

11
CL1212E/TB/EUI-2PK
Extended Temperature CopperLink High Speed Auto Rate Extender Kit (Local and Remote); 2 x 10/100BaseTX; Terminal Block Line Connector; 100-240VAC
General Availability

Accessories

12
CL1212E/TB-SKD
Ethernet Extender, PCB Sub Assembly, Terminal Block Line; 2 x 10/100; No Power Supply
General Availability
13
CL1212E-SKD
Ethernet Extender, PCB Sub Assembly, RJ45 Line; 2 x 10/100; No Power Supply
General Availability