Overview
Patton's FP100EM converts singlemode or multimode fiber to a copper Ethernet signal. The stable bandwidth and noise immunity is ideal for low bandwidth applications that include connectivity POS kiosks, BACs, PLCs and many other remote networking needs.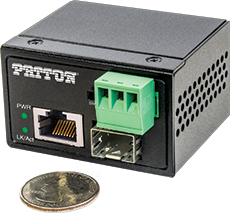 Because Ethernet over Cat 5e/6 cables is limited to only 328 feet (100 meters), using fiber as a backhaul allows for a massive increase in distances. SFP options for multimode can reach up to 1.24 miles (2 km) and singlemode options can range as far as 74 miles (120 km). In addition to the reach, you get fiber's superior immunity to noise and, harmful transients (surges).
The FP100EM is housed in an IP30-rated, DIN-rail or wall-mount enabled enclosure, and has a wide operating temperature of -40 to 167°F (-40 to 75°C). Its rugged design and wide temperature range makes it an ideal media converter for industrial or harsh environments. Its small size even allows you to put it directly into the enclosures of your primary devices.
Applications