Patton is certified for Lync 2013 and Skype for Business

Implementing Microsoft Skype for Business/Lync into small and medium businesses' (SMBs) existing networks can be challenging, especially when essential network elements or sub-systems are not compatible or certified with Skype for Business/Lync. Such equipment, software and services may include:

• Non­-Compliant SIP Phones
• Non­-Compliant IP PBX
• PSTN Lines
• Analog Phones
• ISDN Phones
• Fax
• PBX

Many SMBs want to install Skype for Business/Lyncbut cannot afford the costs of replacing their existing non­compatible equipment with new Skype for Business/Lync-certified equipment. Meanwhile, some organizations are just not ready to leave their trusted PSTN lines behind.

Patton offers a "gateway to Microsoft Skype for Business/Lync" for companies facing such challenges.Patton's SmartNode VoIP Gateway are Microsoft Lync Certified. That gives any enterprise the ability to connect otherwise non­compatible SIP endpoints, PSTN lines and legacy telephony to the Skype for Business/Lync unified communications environment.

All gateways qualified with Lync Server 2013 are forward compatible and supported with Skype for Business 2015.
PODCAST : SIP to LYNC
 [18:13]



Play in new window | Download

Patton achieved Microsoft Lync certification for SmartNode VoIP gateways in June 2012. In this podcast, Tyler Delin, Product Manager, explains how SmartNode provides the SIP to Skype for Business/Lyncgateway for all your voice systems.
 >>Read the interview...


---

ON-DEMAND WEBINAR
SmartNode: the gateway to Lync
[29:39]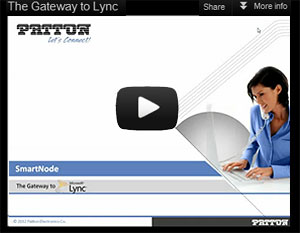 Certified by Microsoft, SmartNode can inter-connect all your existing voice and data elements in a Lync based unified communications system. Lync-enable legacy and IP-based phones, faxes, PBXs, etc. SmartNode is The Gateway to Skype for Business/Lync.

What are the benefits of implementing Microsoft Skype for Business/LyncSolutions using Patton's SmartNode VoIP gateways, IADs, and Enterprise Session Border Controllers (eSBC)? How do you set it all up? Learn all that and more in this educational webinar.