What are the advantages of Power over Ethernet?
Cost savings:
PoE removes the cost of hiring professional electrical installers.
Quick installation:
Connect the power sourcing equipment (PSE) to the local PoE extender to provide power, and then connect the networking cable; after which connect local and remote extenders with a twisted-pair cable, Cat 3 or 5 cable, or coaxial cable; and finally, connect power and network cables from the remote extender to a powered device (PD) such as an IP phone, IP camera, WAP, and so on.
Flexibility:
Network administrators can deploy powered devices at nearly any location. Shielded cabling can be used for outdoor environments. Industrial-grade powered devices can be used for industrial environments.  
Safety:
PoE uses relatively low voltages, so there is low risk of electrical hazard.
Reliability:
CopperLInk PoE devices are in full compliance with the IEEE 802.3 standard that defines standards for Ethernet networks.
Scalability:
CopperLink PoE devices are plug-and-play, making it easy to add new equipment to a network.  
Overview of Power over Ethernet standards
The Institute of Electrical and Electronic Engineers (IEEE) maintains the 802.3af PoE standard (supports up to 15.44 watts of power), 802.3at or PoE+ standard (supports up to 12.95 watts), and 802.3BT or PoE++ standard (supports up to 90 watts).
802.3af PoE Standard:
This standard supports 15.44 watts of power, but in practice, powered devices (PDs) reliably receive 12.95 watts due to power losses through the circuit.
802.3at PoE Standard:
Also known as PoE+, this standard supports 30 watts of power, but as with the 802.3af standard, power losses lower the amount supplied to 25.5 watts.
802.3bt or PoE++ Standard:
IEEE is currently developing a higher powered PoE standard that may provide up to 90 watts using 4 pairs of balanced twisted-pair cabling. Such higher powered PoE will support IoT applications (lighting, sensors and building
automation, for example), and PDs such as point-of-sale systems, nurse call systems, and pan-tilt-zoom (PTZ) IP cameras, among many other devices.  The new standard is expected to be ratified in 2017.
Mode A vs. Mode B power transmission methods
PoE devices uses two methods to supply power: Mode A and Mode B.
Mode A:
As shown in the table below, this method uses data pin pairs 1-2 and 3-6 to transmit and receive data and power, leaving pinout pairs 4-5 and 7-8 unused. Mode A devices are sometimes referred to as end-span units.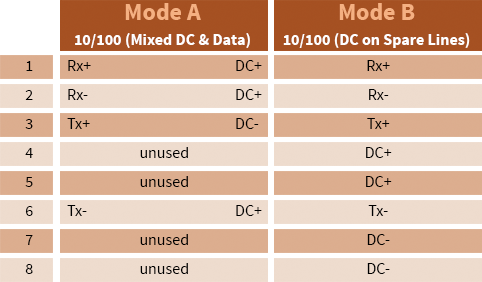 Mode B:
As shown in the table, when operating in Mode B, all data pairs are used. Mode B sends data using pin-outs 1-2 and 3-6.  Power is sent using data pin pairs 4-5 and 7-8. Mode B devices are also referred to as midspan devices.
Power Sourcing Equipment (PSE) and Powered Devices (PD)
Power sourcing equipment (PSE) are devices that supply power to powered devices (PD). If you are installing the devices inside Ethernet's distance limit of 328 feet (100 meters), the powered devices (PD) receive power directly from PSEs. If you are installing the devices farther than 328 feet (100 meters) apart, CopperLink PoE Ethernet Extenders in circuit between the PSE and PD can extend the distance up to 3300 feet (1005 meters).
PoE Class Types
To avoid over-powering a PD, which can shorten its life, IEEE-compliant powered devices fall into four PoE classes that ensure efficient power distribution by specifying the amount of power that a PD will require. The table below lists the ranges of power allocated to the class types for 802.3af and 802.3at standards.