Features

Multi-Rate Symmetric DSL
Transparently passes VLAN tagged and Cisco ISL Ethernet frames
CAP (Carrierless Amplitude and Phase) Modulation
Data Rates up to 2.304 Mbps
Ethernet, G.703/G.704 X.21, V.35 and EIA-530 Interfaces Available
Compatible with Popular Model 1095
Multi-Rate Symmetric DSL
SNMP/HTTP Manageable via 1001MC SNMP Agent Rack Card
NetLink Plug-and-Play for Easy Installations
Ethernet Version Supports PPP Bridging
Universal Power Options, 120 VAC, 230 VAC, and -48 VDC Available
Small, Convenient Desktop Unit
CE Marked.

Made in the USA — This Patton equipment is designed by Patton engineers and built in our Gaithersburg, Maryland facility. Patton's American-made manufacturing process delivers high-quality networking solutions with reliability you can trust.
Overview
Patton's new NetLink Model 1088 provides high-speed two-wire connectivity for Internet, frame relay, Campus and ATM networks. Providing symmetric DSL connectivity at rates up to 2 Mbps over just two wires, the Model 1088 connects routers, switches, or other access devices at distances up to 6.2 miles (10 km) (see distance table below).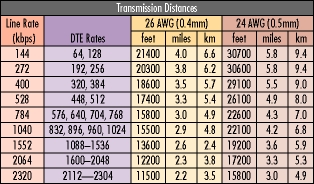 Available in four fixed-interface versions (10Base-T Ethernet, G.703/G.704, X.21, and V.35), the Model 1088 operates at n x 64 kbps rates up to 2.304 Mbps. Our Ethernet version, the Model 1088/I, offers 10Base-T bridging with PPP support. This enables customers to extend a router's serial interface and connect to a remote 10Base-T Ethernet LAN (see diagram below). All four versions of the Model 1088 are fully compatible, allowing extended distance conversions between G.703/G.704, X.21, V.35, Ethernet, etc.

The Model 1088 is also compatible with Patton's popular Model 1095 standalone or 1095RC rack card. Now service providers can cut costs and setup time by installing a rack-mounted Model 1095RC at the central site while bundling a Model 1088 with DSL service at the customer premises (see diagram below).

Convenient plug-and-play capability enables NSPs to quickly install or upgrade remote units. And both the 1095RC and 1088 can be managed via SNMP/HTTP using Patton's 1001MC SNMP agent card!
Ordering

Sorry!
Ordering information for this product is not publicly available at this time.
Please accept our apology as we regret any inconvenience to you.

For more information
about the availability of this product and/or alternative solutions,
please contact Patton's Product Management team at
sales@patton.com or +1 301 975 1000