Overview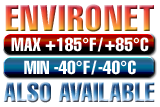 The Patton Model 2168A Multi-Rate CopperLink Ethernet Extender enables the utilization of existing copper infrastructure for high speed Ethernet extensions at data rates up to 16.67 Mbps. The 2168A includes seven asymmetrical and symmetrical settings which provide the flexibility to increase the distance or speed of the Ethernet connections.
CopperLink applications include Ethernet extension, medical imaging, video-conferencing, Ethernet Bridging, and inter-connecting remote devices or remote networks to a central LAN. The multi-rate symmetrical line rates ensure the highest possible data rate is achieved over various lengths and types of copper wire and environments. Multi-rate asymmetrical line rates make the Model 2168A the ideal solution for service providers who want to differentiate their services or extend the reach of their customer base. The Model 2168A allows service providers to offer unparalleled performance for such applications as always on Internet access, real time bi-directional video streaming, and various multimedia applications.
If you want to take your network and voice connections farther and faster over existing copper and eliminate the expense of fiber, Patton's CopperLink Ethernet Extenders are the products for you!
Just plug it in, power it on, and play!
CopperLink™ Copper Ethernet Extenders
Take your network connections faster and farther over existing voice-grade wire with Patton CopperLink™ Ethernet Extenders!
Max. Distance

Max. Speed

Distance at Max. Speed

CopperLink™ Model

1 mile
(1.6 km)

50 Mbps

800 feet
(243.9 m)

1.1 miles
(1.8 km)

16.6 Mbps

3,125 feet
(952.5 m)

Model 2168A

0.75 miles
(1.2 km)

12 Mbps

4,000 feet
(1219.2 m)

5.7 miles
(9.2 km)

4.6 Mbps

2.0 miles
(3.2 km)

5.7 miles
(9.2 km)

2.3 Mbps

3.1 miles
(5 km)

5 miles
(8 km)

144 kbps

5 miles
(8 km)
Applications
Workgroup Ethernet extension application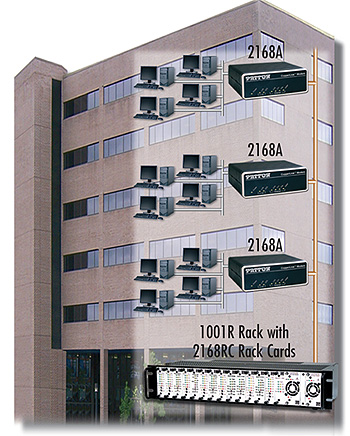 Ethernet Extender allows copper instead of fiber for vertical Ethernet spans!
These multi-rate Ethernet Extenders are ideal for bridging Ethernet spans inside buildings that are beyond the 328-foot (100-meter) distance limit of Ethernet.
For example, connecting workgroups located on different floors in a building no longer requires expensive switches or the installation of low capacitance cable.