The Model 1089 is the next generation of SNMP/HTTP-manageable high-bit-rate digital subscriber line (HDSL) modems. Supporting 2B1Q modulation, the Model 1089 operates at n x 64 kbps rates up to 1.152 Mbps over two wires.
Available in four fixed interface versions (10Base-T Ethernet, G.703/G.704, X.21, and V.35), the Model 1089 operates at ranges up to 4.6 miles (7.3 km) without repeaters (see distance table below). Our Ethernet version, the Model 1089/I, provides 10Base-T bridging and PPP support. This enables customers to extend a router's serial interface and connect to a remote 10Base-T LAN.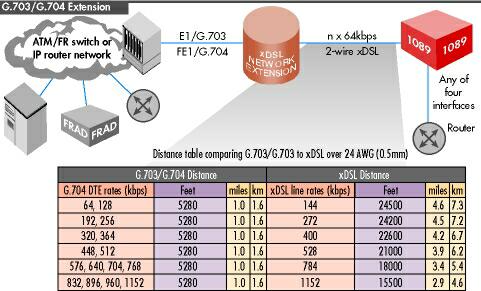 The Model 1089 is fully compatible with Patton's popular Model 1094A standalone and 1094ARC rack card. Now service providers can cut costs and setup time by installing a rack-mounted Model 1094ARC at the central site while bundling a Model 1089 with DSL service at the customer's premises.
The 1094ARC and 1089 can be managed via SNMP/HTTP using Patton's 1001MC SNMP agent card!