The Model 3012/V24 Modem Sharing Device (MSD) enables users to expand their polled or contention networks without acquiring additional data lines or modems. DSDs act as combined modem and port sharing devices.
With one of these bi-directional units, up to eight sync or async terminal devices can share one modem in a polled or contention environment. Data arriving at the master port is continually broadcast to all sub-channels. The first sub-channel to activate RTS is automatically given control of the master port. When RTS is deactivated, the MSD enables any other sub-channel to take control of the master port. Sub-channels contend for the main channel by activating RTS, DCD, or by detecting data transitions.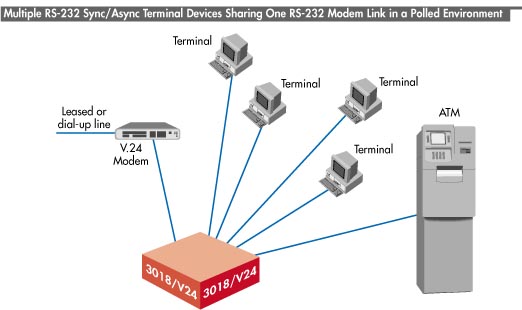 Clock signals are provided by the modem connected to the master port, at data rates from 75 bps to 64 kbps (properly shielded, low capacitance cables must be used for speeds faster than 38.4 kbps) and faster. MSDs have optional anti-streaming features that prevent network lockups by automatically removing a defective sub-channel from service.
Any sub-channel can be temporarily taken off line for servicing by using the front panel enable/disable switches. The 3012/V24 comes with an internal power supply that can be set by a switch for 110-to-120 or 200-to-240 VAC operation.