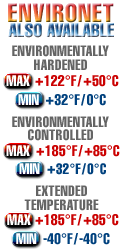 The CopperLink Model 2172 Ultra-High-Speed Ethernet Extender leverages existing copper infrastructure to deliver high-speed Ethernet extension. Providing data rates up to 50 Mbps in each direction for an aggregated full-duplex speed of 100 Mbps, the Model 2172 is the perfect solution for delivering triple-play communications services and other bandwidth-intensive applications. CopperLink Ethernet Extenders easily inter-connect remote devices or remote networks to a central LAN for such applications as medical imaging, video-conferencing, Ethernet bridging, Triple Play, and VoIP
Six user-selectable settings for symmetrical and asymmetrical rates provide the flexibility required to achieve the optimal speed-distance combination for each and every connection. Multi-rate symmetrical line rates allow each connection to be tuned for the length and gauge of the copper wire, in order to achieve the maximum possible data rate for the environment. Multi-rate asymmetrical line rates make the Model 2172 the ideal solution for service providers who want to differentiate their services or extend the reach of their customer base.
Get near-fiber performance without the expense with Patton's Ultra High-Speed CopperLink Ethernet Extender!
Asymmetrical Line Rates

Line Rates (AWG 24/0.5 mm)

Distance in ft (m)

Downstream in Mbps

1

6,000 (1,830)

2

50

2,000 (610)
Symmetrical Line Rates

Line Rates (AWG 24/0.5 mm)

Distance in ft (m)

Downstream in Mbps

10

4,000 (1,200)

50

50

800 (245)
CopperLink™ Copper Ethernet Extenders
Take your network connections faster and farther over existing voice-grade wire with Patton CopperLink™ Ethernet Extenders!
Max. Distance

Max. Speed

Distance at Max. Speed

CopperLink™ Model

1 mile
(1.6 km)

50 Mbps

800 feet
(243.9 m)

Model 2172

1.1 miles
(1.8 km)

16.6 Mbps

3,125 feet
(952.5 m)

0.75 miles
(1.2 km)

12 Mbps

4,000 feet
(1219.2 m)

5.7 miles
(9.2 km)

4.6 Mbps

2.0 miles
(3.2 km)

5.7 miles
(9.2 km)

2.3 Mbps

3.1 miles
(5 km)

5 miles
(8 km)

144 kbps

5 miles
(8 km)
Applications
Workgroup Ethernet extension application

The Model 2172 multi-rate Ethernet Extenders are ideal for delivering Ethernet links to remote buildings that are beyond the 328-foot (100-meter) distance limit of Ethernet. The 100 Mbps throughput eliminates bandwidth concerns previously experienced with other copper wired transmission technologies. By utilizing existing voice grade copper pairs the expense and hassle of installing low capacitance or fiber cable is no longer required.