Overview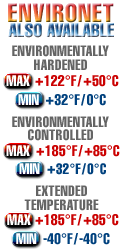 The Patton Model 2172R utilizes pre-existing twisted pair infrastructure enabling twisted pair previously used for legacy systems such as TTL, RS232 and 422/485 to be used for extending or connect Ethernet devices together. With a pair of 2172R's or combined with a 2172, twisted pair can carry an extraordinary bandwidth of 100 Mbps full-duplex (50 Mbps up and downstream). Reusing the already existing infrastructure for Ethernet Networking eliminates the cost of purchasing expensive fiber and Cat5E or greater cabling. Most importantly, it completely eliminates the hassle and sometimes overwhelming expense and downtime of the cable installations.
The 2172R was designed to operate in a rugged environment, with temperature ranges from -10 to 70°C, and the option for conformal coating protecting the device from condensing humidity, and operates at -10 to 80°C. The 2172R's aluminum case design allows for users to conveniently mount them either on a wall or DIN rail (with optional DIN rail kit).
Applications
The Model 2172R multi-rate Ethernet Extenders are ideal for delivering Ethernet links to remote buildings that are beyond the 328-foot (100-meter) distance limit of Ethernet. The 100 Mbps throughput eliminates bandwidth concerns previously experienced with other copper wired transmission technologies. By utilizing existing voice grade copper pairs the expense and hassle of installing low capacitance or fiber cable is no longer required.