Overview
Supporting line rates from 144 kbps to 1.168 Mbps, the NetLink 1094A provides "megabyte" speeds for leased lines, LAN-to-LAN interconnections, and WAN access networks located up to 4.6 miles (7.3 km) apart (see distance table below).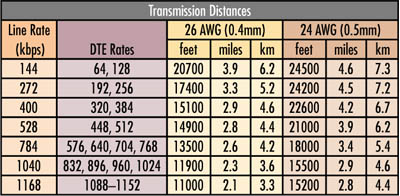 The 1094ARC is the high density 2U-high rack card version of the NetLink HDSL modem (1094A). Now service providers can cut costs and setup time by installing a rack-mounted Model 1094ARC at the central site while bundling a standalone Model 1094A with DSL service at the customer's premises. Convenient remote management capability enables engineers to quickly install or upgrade remote units. The 1094ARC and 1094A can be managed via SNMP/HTTP using Patton's 1001MC SNMP agent card!
As a symmetric modem, the NetLink 1094ARC HDSL modem uses 2B1Q modulation to provide the same data rates in both directions over a single pair of regular telephone lines. Featuring replaceable DCE-DTE interface modules, the NetLink HDSL modem can support a wide range of applications, including Ethernet LAN bridging, G.703/G.704 line extension/termination and V.24/RS-232, V.35, RS-422/530, and X.21 interfaces.