The Model 2604 DACs is the ideal tool for managing and maximizing the allocation of 64-kbps DS0 channels in under utilized lines. Reducing the cost-per-channel and freeing bandwidth for growth, enterprise customers can concentrate data services from local T1 and E1 lines onto fully utilized local loop WAN uplink connections with complete control and ease of use.
The Model 2604 comes in a sleek, 1U high, 19-in. chassis for convenient installation in standard telco racks. Dual-redundant power supplies ensure uninterrupted operation and service. Four RJ-48C connectors provide standard T1 and E1 interfaces to network and local lines, while RS-232 console and 10/100Base-T ports enable complete control via in-band, out-of-band, and craft management interfaces. A comprehensive set of alarms help network personnel quickly isolate failures and minimize downtime.
The Model 2604 Digital Cross Connect Unit combines a robust hardware platform with a rich set of software features to deliver a flexible multiplexing solution for cross-connection, DS0 grooming, and T1 to E1 conversion applications.
Applications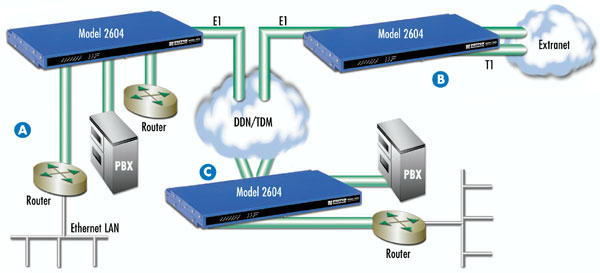 T1/E1 Aggregation. Medium-size enterprises can aggregate and groom time slots from up to three partially used local T1/E1 lines onto a single outgoing link. This capability enables routers, PBXs, and other network devices dispersed over the campus area to efficiently use a single T1/E1 line for network access.

T1/E1 Conversion. In situations where T1 and E1 networks converge, ports on the Model 2604 can be configured as E1 or T1 interfaces. This feature provides the capability for mapping and transparently transport T1 64 kbps time slots over E1 lines, and up to 24 E1 channels per T1 line.
Wide Area Deployment-Local Switching. In a wide area deployment, medium- and large-size enterprises can use the Model 2604 for local timeslot switching from multiple local or remote T1/E1 lines. The model 2604 HTTP/SNMP flexible management allows provisioning and monitoring of switching sites from any remote or central location.
2604 HTTP/SNMP Configuration Management Screens
Point-and-click HTTP management menus offer customers the simplest way to configure and monitor the Model 2604.
DS0 Mapping screens display a colorful grid of ports and 64kbps channels, simply click and drag timeslots from a port to any other port within the grid and the connection will be completed transparently by the 2604. Channels that have active connections appear in green, inactive channels in red\85it doesn't get any simpler than this. Additionally, for those who prefer to enter command line type configuration, the 2604 offers the option to switch to command line screens.
T1/E1 configuration screens, offers line configuration by intuitive drop down menus, while the T1/E1 link activity page offer per link status information, current and historical near and far end line statistics, and alarm configuration... all at the click of a mouse.
For greater flexibility, the 2604 management software also allows configuration and monitoring via third party, industry standard SNMP software packages.