Patton's Model 3224 IpDSLAM combines 24 G.SHDSL ports, two 10/100 Ethernet ports, and a built-in multi-protocol router into a single cost- effective Internet service delivery platform.
The Model 3224 is an expandable 1U system that seemlessly connects 24 subscribers to IP network access. Using ANSI/ETSI G.SHDSL, the Model 3224 enables providers to extend their reach-and-range by delivering rate-adaptive nx64 symmetrical speeds from 192 kbps to 4.6 Mbps-all over a single pair of wires. With its dual auto-sensing 10/100 Ethernet ports the Model 3224 can connect to your existing network or use an optional high-speed uplink for a complete point-of-presence. With its dual-redundant hot-swap power supplies the Model 3224 is perfect for high-demand and high-availability applications.
The Model 3224 is a complete full-function edge-router with subscriber traffic management. Use the traffic filtering, shaping, and policing capabilities of the IpDLSAM to tailor the service to the needs of each subscriber. Filter by IP address, IP port, or physical port to grant or restrict access to sites and applications. Network address translation (NAT) can be setup for IP address management. Use RIP, OSPF, or BGP to route traffic between any number of ports, or use static routes for connecting smaller networks. With SSH even management traffic can be securely accessed.
The Model 3224 IpDSLAM comes with the redundancy and ease of management required by service providers for high quality of service. Included with the purchase of every unit is free initial configuration support, one year of free technical services, one year warranty, and free software upgrades.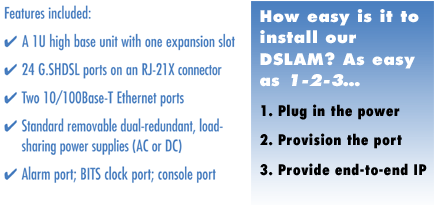 | | |
| --- | --- |
| Features | Benefits |
| Redundant, Removable PS | Non-Stop Operation |
| BITS & Alarm Ports | Deploy in CO environments |
| 24 G.SHDSL Ports | Symmetric DSL to 4.6 Mbps |
| Two 10/100 Ethernet Ports | Redundant Up-Link |
| Expansion Modules | Customize Network Up-Link |
| L2TP | Create Layer 2 VPNs |
| GRE | Create Layer 3 VPNs |
| RIP, OSPF, BGP, Static | Routing flexibility |
| RADIUS Accounting & Authentication | Authenticate & track users with existing tools |
| NAT & NAPT | Masquerading |
| IP address & port filtering | Create firewalls & manage QoS |
| DNS Caching | Faster address lookups |
| DHCP | Manage user IP addresses |
| NTP | Synchronize to time source |
Applications

Use the Model 3224 IpDSLAM to create Layer 2 VPNs with L2TP or
Layer 3 VPNs with GRE between IpDSLAMs or other third-party equipment.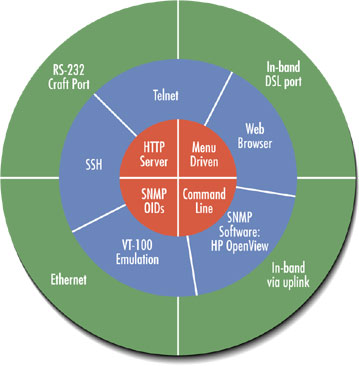 The IpDSLAM comes with one of the most complete element management systems available.