Overview

The Patton Model 2703 MegaLink-I™ wears several hats:
As a network termination unit, the Model 2703 receives unstructured, synchronous 2.048 Mbps data from a G.703 network and sends it to a router, bridge, multiplexer or other device.
As an interface converter, the Model 2703 accepts 120 Ohm twisted pair or 75 Ohm dual coax network connections (both types of interfaces provided). Then it converts the signals to EIA-530 (V.36/RS-422), V.35 or X.21 formats (switchable) on a UD-26 connector.
As a rate converter, the Model 2703 lets a lower bandwidth device—256 kbps, 512 kbps, or 1.024 Mbps—connect to a 2.048 Mbps G.703 link.
The Model 2703 supports internal, external or network (receive loop) clocking. A loopback test is built-in, and front panel LEDs monitor power, network, master clock and test loop. Several power supply options are available. The Model 2703RC rack card performs all the functions of the standalone box (except rate conversion) and fits in Patton rack systems.
Highlights
The Patton Model 2703RC is a 2U (3.5") high rack card version of the MegaLink-I™. Built around Patton's midplane architecture, the Model 2703RC combines a front function card with a choice of two rear interface cards (120 ohm + RS-530, or 75 ohm + X.21). The Model 2703RC fits in Patton's rack chassis or ClusterBoxes™. One AC or DC power supply card provides power to up to 16 Model 2703RC converters. The Model 2703RC incorporates all basic MegaLink-I™ features, except rate adaptation.
Our Model 460 balun addresses the ONP requirement that European PTTs offer 120 ohm twisted pair terminations to their customers. Supporting E1 data rates to 2.048 Mbps, the Model 460 receives 75 ohm (dual coax) signals and converts them to 120 ohm for transmission over a twisted pair network. The Model 460 also converts 120 ohm signals to 75 ohms.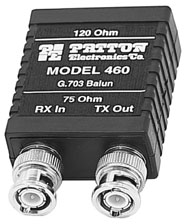 At the heart of the MegaLink-I™ is Patton's IM703 G.703/E1 interface module. The IM703 module provides both 75 ohm (dual coax BNC) and 120 ohm (RJ-45 twisted pair) 2.048 Mbps network connections in one compact daughterboard. Patton's IM703 module is also available separately for OEM applications.