The Problem
BroadCloud UCaaS services need to empower subscribers with choice and control, while affording the Service Provider simple, standard and regimented service offerings. Delivering a limited set of offerings which address subscriber demands is difficult. Subscribers have a different on-premise systems and devices, different expectations of service assurance and they are seeking services that can grow with their business. Likewise, Providers need to minimize both CAPEX and OPEX while providing flexibility to the Subscriber and the ability to add-on value added services.
The Picture
The Patton Cloud provisions, configures and manages devices, services and solutions at the edge or point of service demarcation. It enables proactive management of devices, device licenses and configurations from any device from any location. Debugging tools together with active monitors and event triggers allow Service Providers to secure services and provides a means to proactively alert, troubleshoot, analyze, and optimize devices and the services delivered by and traversing the SmartNode. Cloud based License services empower Service Providers to proactively extend, update and upgrade services delivered to subscribers with just a few clicks.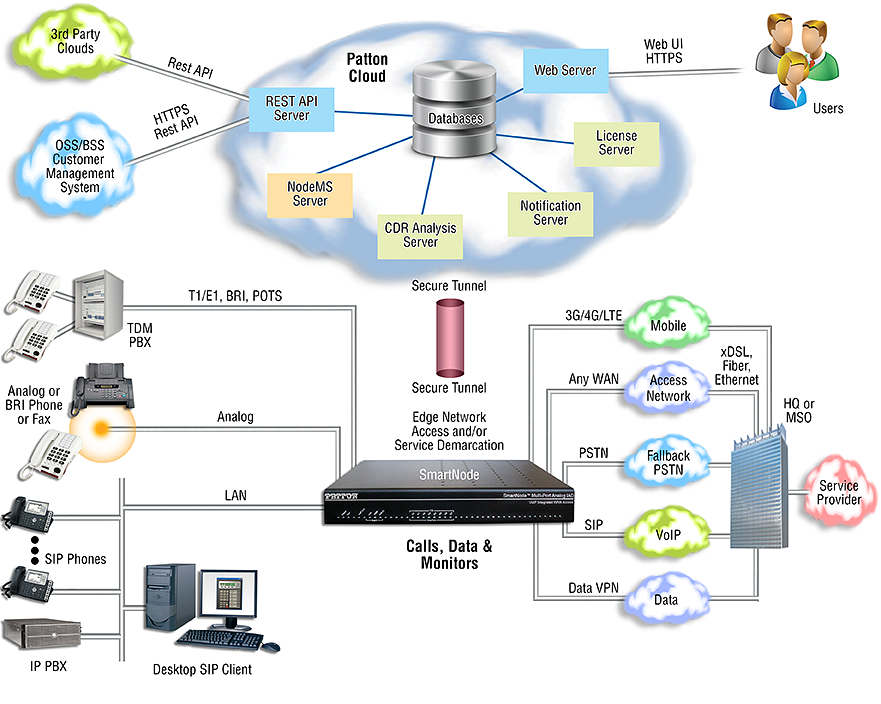 The Solution
The SmartNode solves Interoperability at the edge. It delivers seamless integration of BroadCloud with on-premise analog, TDM or SIP-based communication systems and devices.
SmartNodes deliver automated survivability (without the need to change any device or BroadCloud configuration) with either multi-WAN wired or wireless as well as TDM trunk fail-over survivability.
The Patton Cloud enables alerts and notifications concerning failover events and outages (failure to connect to BroadCloud).
Edge Analytics provide Service Assurance and QoS reporting and alerts. When a SmartNode is connected to the Patton Cloud it monitors and alerts on connectivity, networking, QoS and services traversing the WAN and subscribers LAN network. It also provides views of device status, health, call loads and much more.
Automated re-direction, Patton-Cloud connection and provisioning offers touchless service turn-up and initiation.
The Patton Cloud gives the Service Provider and Subscriber choice and control. Services can be scaled, transformed or re-purposed remotely via remote software upgrades and device license and firmware. You can remotely apply new routing, security or other protocols, add TDM channels, SIP Sessions or NFV/SD WAN support.
The Patton Cloud decreases costs and improves provider profitability by providing a centralized interface to manage, monitor, secure, alert, troubleshoot, analyze, transform, re-purpose and optimize services by leveraging a SmartNode installed on the Customer Premise.
Security, reliability and maintenance are managed via in-band or out-of-band remote access which enable configuration, re-configuration, re-provisioning, monitoring, reporting, alerting and troubleshooting.
Check Out the Patton Cloud Service

The Details
Successfully selling BroadCloud starts before the service is launched and it is all about knowing your customers.

Customers need to have a way to make a gradual and controlled migration to UCaaS. Large customers have big investments in on-premises PBX/IP-PBX systems. Small customers want to keep FAX machines, paging systems, intercoms and other legacy on-premise devices. Coexistence of Cloud and On-Premise system is essential, at least for a time. Cloud interoperability with on-premise systems means edge integration with subscriber SIP as well as Analog, T1/E1 or ISDN devices.

Customers need assurance of service continuity, including when the access network goes down, is congested or there is loss of connection to the Cloud for any reason. Customer want choice and control over the services they receive and need to be able to add users, add features and scale services to their changing needs.

Service Providers need strategies that enable them to grow with their customers; and those customers want to avoid being locked into contracts with capabilities and services they don't need or don't need yet. At the same time, providers need to be able to offer a few standard services. Turn-up needs to be easy and efficient with both low CAPEX and OPEX. Service quality, security, reliability, manageability, maintainability and interoperability all need to be ensured in order for the service to become profitable.

Service Providers need way to efficiently launch, manage and maintain services while limiting investments in infrastructure, manpower and training. They need to be regimented in the services offered to customers, while maintaining a high level of commonality and re-use of network elements including CPE devices.

Patton's SmartNode products, together with the Patton-Cloud deliver powerful, easy and efficient solutions to all of these challenges. POTs and TDM interfaces on these Edge eSBC deliver both legacy system/device connectivity as well at TDM trunk failover and survivability. Multi-WAN interfaces enable both wired and wireless SIP failover and remote out-of-band access to the customer premise. Cloud-based License services enable re-purposing and scaling of service towards the subscriber network and devices. Cloud-Powered SmartNodes enable automated-provisioning for touchless service turn-up. They ensure quality, security, reliability, manageability and maintainability through Cloud tool sets.